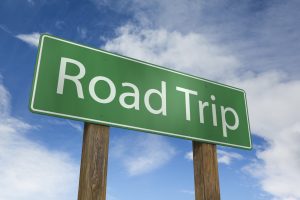 Small Business Perspective: The Road Trip
My small business perspective was recently enhanced. During the summer of 2016 I took a road trip across the country. Over the course of twenty-one days I covered six thousand three hundred miles and traveled through seventeen different states. What began as a convenient way to meet with clients located far and wide became a case study in how small businesses operate in different regions of our great country. I highly recommend that you do something similar, even if only on a small scale to get the benefit of interacting with business owners and customers in a variety of situations.
My first stop was at a Cracker Barrel restaurant located in Flagstaff, Arizona. It had been years since I had patronized this chain and I longed to see if it was as I remembered it from more than twenty years ago. When you first enter the building you find yourself in their country store, filled with items from the past. As you work your way towards the restaurant it's apparent that everything has been strategically placed to make you feel right at home.
From the employees dressed in clothing from a hundred years ago to food that is both delicious and reasonably priced, Cracker Barrel bends over backwards to make customers feel like family. It made me question my own methods of doing business online and in person and made me think twice about my small business perspective. Do my own clients fell like family or more like paying customers?
My next stop was at a Motel 6 in Winslow, Arizona. I had not called ahead to make a reservation, nor had I gone online on my smart phone to see if they had a room available for that evening. I was met at the front counter by a woman who greeted me with a smile. She not only made me feel at home, but asked if I'd like an accessible room or one closer to the office.
Also, she offered to let me look at the room first before committing to it. This motel was located right next to the railroad tracks, as many Motel 6s are, and she assured me there would be no noise once I had closed the door to the room. She was correct. Considering my total bill was less than sixty dollars for that night's stay, I was quite satisfied.
These experiences continued as I crossed the country over the next three weeks, and I came to expect the very best in customer service and amenities. I was disappointed at a Super 8 motel in Sapulpa, Oklahoma, outside of Tulsa and left a one star review on their website within the following twenty-four hours to share the details. In this day and age of social media and review sites businesses simply cannot afford to offer less than acceptable goods or services.
The Kroger grocery store I shopped in Knoxville, Tennessee also went out of its way to provide me with a superior experience. And when I was in need of a prescription in Memphis, it was the kind and helpful people at the Walgreen's pharmacy who made my day one to remember. And the gas station in Charlottesville, Virginia had employees who washed my windshield and offered help with directions to my next destination. This was yet another reminder that we do business with people, not with companies or corporations and that these people can make or break the reputation of a business one transaction at a time.
This was such a valuable learning experience for me that I plan to take another road trip in the near future, albeit not such a long one. There is nothing like putting yourself out there to see exactly what it's like to do business in unfamiliar locations and surroundings. When I came home I had a small notebook filled with ideas as to how I can improve my own business practices.
By now you can see that seeing the U.S.A., whether in a Chevrolet or another make of vehicle can be an excellent way to get an up close and personal view of how business really works. Make a plan to take to the open roads and observe your own experiences with a renewed small business perspective so that your own business will benefit when you return.
 I'm author, publisher, and entrepreneur Connie Ragen Green and would love to connect with you. If you're new to the world of online entrepreneurship please check out my training on how to sell yourself at Sell Yourself and Your Stuff and learn how to gain an unfair advantage when it comes to building a lucrative online business.