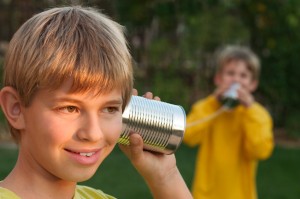 Are you familiar with the concept of learning modalities? These are the sensory channels or pathways through which individuals give, receive, and store information. Perception, memory, and sensation comprise the concept of modality. The modalities or senses include visual, auditory, tactile/kinesthetic, smell, and taste. There are three primary learning modalities, including visual, auditory, and tactile/kinesthetic.
We will focus here on the auditory learning modality and how it relates to your online business. Did you know that a large portion of the population, at least thirty percent, retains information better when they hear it than when they read it? Auditory learners must hear what they are learning to really understand it.  They enjoy listening, but cannot wait to have a chance to talk themselves. These students respond well to lecture and discussion. If you are creating information products or writing books, these are the people who will want to have an audio or mp3 version of what you have created.
This is one of the many reasons that it pays to offer audio as an option for your site visitors.  Here are some additional ones:
Audio can inject personality into your website in a way that text and graphics can't.  There's just something special and unique about hearing someone's voice that makes site visitors feel welcome.
Audio is convenient. Those who want or need to multitask can listen to audio while doing something else. They do not have to be right in front of the computer screen to use it.  You can also make audio available for download to an iPhone, iPod or MP3 player, so your visitors can take it with them wherever they go.
Using audio will most definitely separate you from the competition.  Many sites and products do not utilize audio, and if yours does, those who enjoy it will be likely to come back to you instead of seeking out your competition.
Ways to Use Audio
There are plenty of different ways that you can incorporate audio into your online business.  Here are a few to consider:
Record a podcast. This is similar to blogging, only it is done in audio form.  Users can subscribe to your podcast so that it is automatically downloaded to their feed readers or iPods.
Host a streaming talk radio show. This is a great way to get targeted visitors to your website, and it allows you to interact with your audience by accepting calls or answering emails while you're on the air.
Offer recordings of online conferences or presentations for download. This gives visitors an incentive to come to your site as well, and it may entice them to participate in future conferences.
Record a message for site visitors. Tell them a little about yourself, suggest areas of the site to visit first, or just welcome them. This adds a unique personal touch.
Making Audio Accessible
There are a number of file formats that you can use when saving audio, but it is important to use popular ones so that your users will be able to listen to them. The most popular format for most types of recorded audio is MP3. It offers great file compression while preserving the quality of the audio. Virtually every computer has an application that can play MP3 files. The Windows operating system comes with Windows Media Player, which will play these and several other types of audio files.
Another benefit of the MP3 is its versatility. It can be easily converted for burning on a CD with most CD burning programs. Users can also put them on their iPhones or just about any other type of portable music player.
Auditory Information Products
When you are creating your first, or next information product, be sure to include it as an auditory file, in addition to any written content or videos you may also be including.
Visited 1 times, 1 visit(s) today