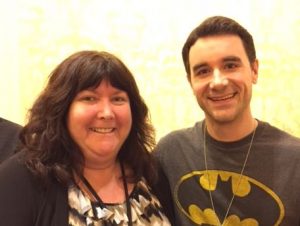 John S. Rhodes is an expert in the philosophy of marketing. I had the opportunity to discuss this with him recently and know you will enjoy our conversation immensely. In the photograph on the left, John and I  are in Las Vegas for a conference. After working with him in various aspects of the business he ran with Jay Boyer for almost five years, it was the first time we had actually met in person.
He bought Jay out of their company at the end of 2014, and they continue to be good friends. (You may listen to the podcast interview I did with Jay by clicking here.
There were many things I did not know about John, and when we talked about what led him to the decision to become an online entrepreneur he shared that he is originally from upstate New York and holds degrees in management science, cognitive and behavioral psychology, and philosophy. He continues to be fascinated about the human condition, and his enthusiasm made me want to know more. He gave an example of how we can change one small behavior and how that will lead to us changing our lives.
During this podcast, John shares his process for determining where to begin with building a successful online business.
The first step is to ask yourself what you are truly passionate about and to make a list of these things. Then filter your list and cross off anything that you are not also very good at doing. Finally, be objective and ask yourself which of these things other people value and will pay you for. Once you have the answer, that will be the area you must pursue as an entrepreneur with unrelenting energy, as it will be in alignment with your purpose and goals in life.
Recently John became the Chief Marketing Officer for Rapid Crush, Inc., the company started by my friends Wilson Mattos and Jason Fladlien. John is passionate about taking that company to the next level. We then discussed one of my favorite training programs created by Jason and Wil, the 6 in 6 Coaching program. Originally planned as a '6 trainings in 6 weeks course, it has now gone into its third year with over a hundred sessions. I have taught three of these training sessions, and will soon teach my fourth. You can get started for only one dollar by going to 6 in 6 Coaching and signing up.
Please leave a comment here after you listen to this podcast.
Subscribe to all of my Calls in my Online Marketing Tips Podcast Series
Visited 1 times, 1 visit(s) today