Creating Low Content Products: Increase Revenue without Spending Hours in Product Development
It's no secret that product creation takes a great deal of time. For many business owners and entrepreneurs, this can be a major drain on their resources. Creating low content products is a way to provide high-value solutions for your target audience without spending countless hours and money developing complex products and services. If done correctly, you can multiply the results of your content efforts tenfold.
What Are Low-Content Products?
In contrast to most products, like an online course which contains a great deal of text and/or video, "low-content" products are light on text and images. Instead, they offer a simple solution to a targeted need. Some examples of common low-content products include checklists, templates, journals, recipes, worksheets, and lists of valuable resources.
It's important to understand that low content does NOT mean low value. You still need to understand your audience's needs and plan the content in such a way that it will make a difference in their lives. But the actual content creation takes less time and involves less work on your part.
Low-content products offer an effective and efficient way to attract potential customers, increase revenue, and quickly build client relationships.
A low-content product is something you offer your audience with minimal or no content included. It's usually something like a workbook, planner, or template. They can be digital or print, but businesses often create digital versions due to the low-cost margin. Software programs like Canva make low-content product creation easy.
The advantage is that they take little time and effort to create. You can use these items to offer more for your audience by mixing low-content products into your other merchandise. These items also allow you to diversify your offerings and create new revenue streams.
Here are some common low-content products businesses offer.
Why Does Creating Low Content Products Make Sense?
The main advantage of low-content products is that they take less time to create. This means that you're able to produce far more products than you would when writing longer text or creating multiple images or video. They can be stand-alone products, but also make a great add-on or option for a low-ticket offer in your sales funnel.
For your customers, the advantage is that this content is aimed at helping them achieve a particular goal, complete a task, or learn how to do something. Your low-content product is an aid to organize or simplify the process for your audience. That's how a piece with so little content can still offer value.
If done right, your low-content products will delight your audience and build a stronger relationship with them. This increased customer satisfaction can translate into repeat purchases and referrals as they tell their friends about your wonderful offers.
What Kind of Low Content Products Can You Create?
If you're trying to come up with an idea for a low-content product, start by thinking about the problems or desires your target customer faces. What could you create that would help them address these? Here are some examples to get you started brainstorming:
Checklists. If a required task has stages or a list of things to do, create a checklist that clearly lays out each step in the process. Then, people just need to work their way through, checking off each item as it's completed.
A checklist is a simple low content product like a planner but more focused on an individual task. It can be nothing more than a PDF with the process steps and a box next to each step.
The best checklists take something complex and make it simple—things like building a website, creating a content management plan, or house cleaning.
Planners. Take a large project or goal and break it up into steps or sections. Create a piece of content that guides the planning for the user so they can simply fill in different sections to complete their plan.
A planner is a document that helps people keep track of tasks. It's like a journal but more specifically geared to a particular area. The target audience is busy and needs to accomplish specific tasks with limited planning time.
While planners are usually printed documents, you can make a digital one that people can interact with on their tablet or phone. Digital planners are usually editable PDFs. However, you can also offer printable ones so users can use a paper version.
Ideas for planners include:
Daily Planner: A planner that helps people keep track of their daily to-do list. You can also offer weekly or monthly planners.
Fitness Planner: This content helps you keep track of workouts, diet, and fitness goal-setting.
Budget Planner: Help your customers keep track of their income and expenses and set financial goals.
Meal Planner: Meal planners are helpful for people trying to stick to a diet. It can include calorie counters, recipe suggestions, and meal-planning templates.
Travel Planner: You can use a travel planner to keep track of your itinerary, flight and hotel information, and expenses.
Event Planners: A great deal goes into planning events like weddings, concerts, or webinars. Keep all information in one place.
Academic Planner: Create a planner to help students stay organized. A similar idea is a parenting planner that helps keep track of kids' activities.
Self-Care Planner: This planner can help to keep your mental health and self-care routine in order.
Trackers. You can offer a tracking system that helps the user stay on target. It can help them make sure they're putting in the work each day and seeing progress.
Learning Logs. A learning log is a record of a student's learning process. It is different than a workbook designed to help students master material. Instead, a learning log is a personal record of your growth as you learn new things.
Students use learning logs to reflect on what they've learned, write down questions for further study, or record feedback from others.
Workbooks. Workbooks offer exercises, quizzes, and activities for students. These can be standalone or go with a course you're offering. A workbook allows students to work out problems independently, so they learn the material by doing.
If you want to offer a workbook and an online course, design them together. If you want a standalone coursebook, choose something your target audience wants to learn. Then, break this into bite-sized pieces, and make each piece a chapter with learning activities.
In the course chapters, focus on giving the user everything they need to complete each activity so they can learn the material.
Journals and Notebooks…
Journals and notebooks are excellent ideas for low-content items. What kind of journal or notebook could members of your target market use? You can create a customized journal designed just for their needs. Journals are especially good for educational content or creative projects. The user can write their own reflections and ideas or jot down what they've learned after each course section. Journal ideas include:
Gratitude Journal: Gratitude journals are used to write down things you're grateful for to bring positivity into your life.
Goals Journal: This could be a notebook where you write down your goals and chart your progress toward reaching them.
Positivity Journal: A notebook designed for self-reflection where you write about your thoughts and feelings to shift to a more positive mindset.
Free Writing Notebook: A place for you to write freely and let ideas come and flow onto the page. You could use this for brainstorming.
Dream Journal: Keep this journal by your bedside, and write down your dreams when you wake up.
Success Journal: You can create a journal for recording each success as you build a business.
New Things Learned Journal: One common success habit is to learn something new each day. Use this journal to reflect on each new thing you learn.
A good way to make your journal unique is to see what competitors offer. You can then provide more value. For example, make it higher-quality, more targeted to your audience, or full of extra elements like writing prompts or inspirational quotes.
Worksheets. Like journals, worksheets are a helpful supplement to educational content such as an online course. Using a worksheet, the participant has a place to answer questions, follow instructions, and start doing the work on their own.
Toolkits. In this type of low-content product, you can provide a variety of simple tools the customer can use to aid them in their task.
A toolkit is a set of resource ideas or tools related to a specific task or topic. For example, you could offer a digital marketing toolkit, a business finance toolkit, or a writing toolkit.
It might provide a mix of the types of low-content products in this blog post, including worksheets and activities, writing prompts, organizational tools, and templates.
Resources Guides. Provide users with a list of ideas where they can find the content or information they need. Organize these so it's easy for them to locate exactly what they need.
Calendars. Your customers might be able to make use of a ready-made calendar, such as an editorial calendar for content marketing or a calendar of holidays for planning promos.
Spreadsheets. I was never a spreadsheet person… until Google Sheets came out!
Templates. Create templates for documents your audience will use or tasks they will undertake. Make these templates customizable to the user's needs. Whenever they need the document, they can get started right away by simply plugging in the key information.
Your low content products can be created as physical or digital products. Sometimes physical products may be more costly and difficult to produce and deliver, but there are also services that will product and ship them. All the above examples can be digital, which is quicker and easier to produce and distribute to your audience worldwide.
How to Begin Creating Excellent Low Content Products
The key to success with low-content products is to know your audience well and understand what they need and when.
Conduct research and find out what issues your target market is facing. Learn about your audience's tastes and try to think of an idea for a low-content product that is a good match for them and for your brand.
Your low-content product can be a standalone offer or a complementary one that goes along with another product or service you offer. These products tend to work best as complementary offers, but if you have something truly valuable, it can be successful on its own as well.
For example, you might create a resource guide of further information to offer at the end of an online course. If you teach languages online, you might offer worksheets to go along with your instructional videos. You can offer toolkits and planners to go along with a print book.
For non-business examples, think about things like recipes for busy moms, guest books and planners for brides, or coloring pages for children.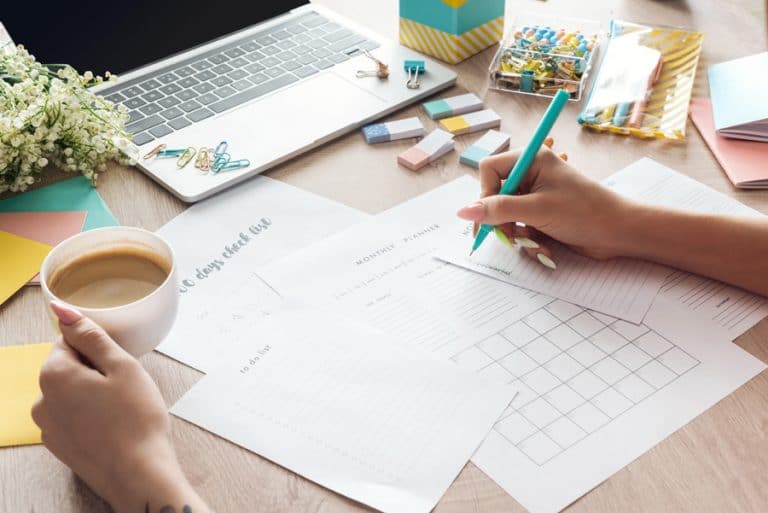 How to Sell Your Low Content Product
Usually, low-content products are sold at a low price. The strategy here is to sell as many products as possible rather than selling just a few at a high price tag. With this method, you earn by selling volume.
These types of offers can also be given away for free, and there are several advantages to doing this. By adding additional value to a purchase, you can increase customer satisfaction. For example, you might offer a free set of templates to go along with a video course.
Low-content products are especially useful as lead magnets to bring people into your sales funnel. For instance, you might offer a free list of resource ideas in exchange for signing up to your email list, where you can then nurture the relationship and eventually pitch your other offers.
Creating low content products will also work well as order bumps. An order bump is a low-cost offer you make at the point of checkout. The customer is about to hit the "Buy Now" button, and an offer appears for a complementary product at just a few dollars more.
How to Benefit from Creating Low Content Products
What kind of low-content product is best for your business? A good rule of thumb is that low-content products should be easy to create, easily affordable, and can be used over and over again. The product needs to be relevant to your audience and provide value while taking you little time and effort to create.
Once you learn how to create a great offer, you can use low-content products in every area of your business.
Low Content Doesn't Mean Low Value
The number one mistake businesses make with low-content products is thinking that it means low value. Even though there isn't much material for you to create, it needs to offer as much value as any regular content.
Start with your customers' needs and develop an idea for something they can use to solve their problems. Then, start creating low content item that offers a solution.
I'm bestselling author, marketing strategist, and entrepreneur Connie Ragen Green and I would love to connect further with you to help you to achieve your goals. If you are interested in learning how to optimize the syndication of your content, please take a look at my popular Syndication Optimization training course and consider coming aboard to increase your visibility, credibility, and profitability.