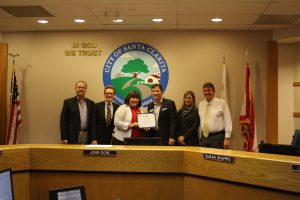 The message was short and to the point: 'Connie Ragen Green, the Santa Clarita Arts Commission would like to recognize you for being an award winning and bestselling author, for your ongoing support of the arts, and for your contributions to service organizations throughout the City of Santa Clarita.' I was surprised and honored to have been chosen for this special award.
On December 13, 2012 I was invited to City Hall to receive this special award. The five members of our Arts Commission, Chairman Tony Dow, and Vice Chairs Susan Shapiro, Paul B. Strickland, Gary Choppé, and Dr. Mark Millar, invited me to the front of the room and presented me with my certificate of recognition. They then went on to surprise me by asking me to autograph several of my books for them.
Earlier in the day, Vice Chair Paul B. Strickland had interviewed me for his weekly radio show, 'Thursday Matinee', at the offices of radio station KHTS, the Hometown Station of Santa Clarita. We discussed how I got started with my online marketing business, and how anyone can do the same thing if they wish to change their life in this way.
The Arts Commission joked that I should be helping them to promote what they are about to more people, and that is something I would love to get involved in. They are involved in so much special and valued work in Santa Clarita and the surrounding communities when it comes to sharing all facets of the arts with people of all ages. The best way to share your accomplishments is to let everyone know what you are doing. For example, I am blogging about being recognized by the City of Santa Clarita here in this blog post. I also sent a press release that you can view by clicking here, (learn more about press releases and publicity from Joan Stewart, the 'Publicity Hound') and I will spread the word on Facebook, Twitter, and LinkedIn as well.
My goal is to spread the word about what I do to help new online entrepreneurs far and wide. What are you doing to let people know who you are, what you do, and how you can help them to achieve their goals?
Visited 1 times, 1 visit(s) today