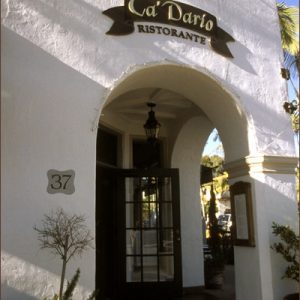 When you become a local celebrity and the world can be your oyster. Recently I had a special dinner with a friend at an Italian place in Santa Barbara called Ca'Dario. The owner is an overnight sensation thirty years in the making, who followed his passion when he came to America to learn the restaurant business. I think many of us can relate to this in that everything we achieve during our lives is the result of many years of hard work and preparation. Knowing exactly what you want at a young age can certainly be helpful, but this does not ensure that it will take less time or effort.
When I met the restaurant's owner I complimented him on the food and the restaurant and then asked how he had learned to market his business so well. His answer surprised me; he said that he told a few 'key' people what he was doing as he went along. He knew they would spread the word, helping to make his restaurant a success.
This is brilliant, and you can do this for your own business as well. It's not the same as word-of-mouth advertising; it's more of a focused way of letting people know who you are and what you have to offer them. Especially in a small town like Santa Barbara, this type of face to face interaction can catapult you to the top of your field very quickly.
Have you identified some key people or groups in your city that would be interested in knowing more about what you are doing in your online business? Take the time to make a list, and then seek them out to share your thoughts and ideas. I've done this with some of the charities I am involved with and have found the people to be quite open to spreading the word about my business.
Some examples of this are that I now write a monthly column for a local print magazine that is owned by someone in my Rotary Club; I've been interviewed on the radio as a result of connecting with the owners of the station; and I was given an award by my city's Arts Council when I connected with someone on the City Council.
Make the effort to become a local celebrity and your business may grow exponentially. And you may even be interested in my exclusive training on the topic of how to become a local celebrity to build and grow a lucrative business. And here is a short video I created on this topic of how to become a local celebrity…
Find out more here…

Connie Ragen Green is a bestselling author, online marketing strategist, and international speaker working with newer online entrepreneurs on six continents to help them build lucrative businesses on the internet. Find out more and download a Special Report at Online Entrepreneur Blueprint and get started right away.
(Visited 75 times, 1 visits today)