Learn about Virtual Book Tours with D'vorah Lansky: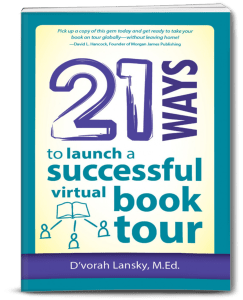 Recently my good friend and colleague D'vorah Lansky and I got together for a Google Hangout to talk about her incredible new book, 21 Ways to Launch a Successful Virtual Book Tour. D'vorah has been a trendsetter with blogging and book tours for several years now, and explains how this works when you want to build your credibility and visibility online.
D'vorah offers virtual book tour workshops and courses for authors, entrepreneurs, and virtual professionals. She has taught hundreds of people, across the globe, how to conduct successful virtual book tours. You can purchase her newest book on Amazon at this link, and learn more about what else she has to offer online entrepreneurs and authors by visiting her site.
Visited 1 times, 1 visit(s) today