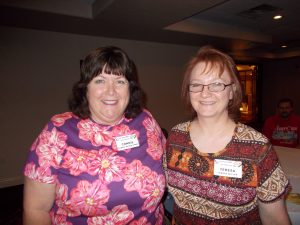 Teresa Miller, publishing expert and online writer, is someone you want to know. We had been following each other online for the past year or so, and we finally caught up in person at the recent Earn 1K A Day Seminar in Las Vegas. I was speaking about how to make huge profits with a tiny list at this event, hosted by Dennis Becker, and it was while I was on stage that I realized just how special Teresa is. Her son, Airman Sean Miller, recently graduated from the Air Force basic training program. I decided while I was speaking that I would devote my weekend to promoting one of Teresa's great courses to help her pay for her trip to the event. This would allow me to be my own Case Study on how what I teach really does work.
In our podcast she shares that she met her husband while they were both in the Air Force, something I did not know, and how proud they were when Sean decided to follow in their footsteps. I want to publicly say thank you to Teresa and her family for your service to our great country.
Teresa has started a forum and membership site for writers of both fiction and non-fiction writing called the Publishing Advantage Group. She has been writing professionally for many years and is the right person to guide you on your way to writing and publishing your own work. I know you will feel a connection with her, just as I have, when you listen to our call. It takes a village to become a successful writer, and Teresa is someone who will stick with you and give you the best and most up to date advice on what your next steps should be.
Subscribe to my entire Podcast Series on iTunes to receive all of my interviews at absolutely no cost.
Visited 1 times, 1 visit(s) today