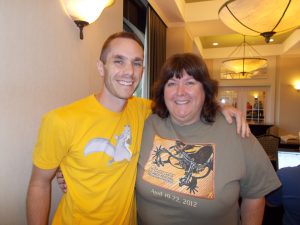 Stu McLaren, Wishlist Member co-founder and CIO (Chief Idea Officer is how I think of him!), is a man on a mission. We were recently together in Las Vegas at a Mastermind we are both a part of for entrepreneurs.
Stu and his partner, Tracy Childers, started Wishlist Member as a solution for those who wanted to have an online membership site within their business. But Stu is about so much more than this. He was going to business school in his native Canada and playing on the varsity soccer team as well. They earned two national championships while he was on the team, making this a large focus for him. After his first year at university he did not maintain the grades to stay on the team. This, of course, was devastating for him, and led him down a path that would ultimately change his life.
Stu watched a video of someone named Doug Hall, founder of Eureka Ranch, where entrepreneurs brainstormed new ideas for their business. He applied what he learned from Doug, author of Jump Start Your Marketing Brain: Scientific Advice and Practical Ideas, to his school work and turned his life around. This was a turning point that changed the direction of his life
He became passionate about creative thinking and wanted to teach others about it. Stu started speaking to groups on this topic and wanted to bring this to the world by leveraging the power of the Internet. While at a conference on creative thinking he ended up in a session on journaling. This was eye opening when he realized he was ready to go out on his own as an entrepreneur immediately after graduation, instead of taking a job he would not enjoy. The rest, as they say, is history.
During our call we also discuss the challenges of becoming an entrepreneur later in life, and how that gives us the ability to help so many people to change their lives.
When Stu and Tracy started Wishlist Member in 2008, my dreams of having my own membership site became a reality. I now have several of them and enjoy the recurring income and benefits of this business model. It was truly the answer to my dreams. The idea for this came out of their own frustrations in trying to set up their own membership sites in the years leading up to this. It was a technological nightmare and they felt that it didn't have to be that hard. The solution was found when they created a WordPress plugin to handle the entire process. Wishlist is now used on more than 42,000 sites and people like you and I can easily set up everything they need. They continue to make it better and better and add new features on a regular basis. I love the idea of recurring revenue in my business. It's the difference between simply having a transaction and building a trusted relationship.
Stu encourages and challenges everyone to take a frustration or a problem and turn it into an opportunity. Focus on one idea and turn it into a business.
Every October they do a huge anniversary promotion to celebrate what they have created. Stu's advice to you if you are new to membership sites is to watch the video with the 10 membership models to see how Wishlist Member can build your own business.
Visited 1 times, 1 visit(s) today