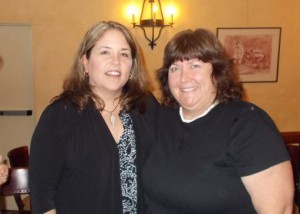 Stephanie Chandler, Authority Publishing CEO and author, is someone I have been following for about three years now. We recently had the opportunity to meet in person while we were both participating in the Global eBook Awards, hosted by Dan Poynter, in Santa Barbara. Stephanie received the honor of having one of her books, Own Your Niche: Hype-Free Internet Marketing Tactics to Establish Authority in Your Field and Promote Your Service-Based Business, be named as Best Business Book of the Year – 2012 at this event.
Stephanie describes herself as being a 'Silicon Valley refugee', where she worked for over ten years as in software sales, technical support, and technical training.  In 2003 she left this fast paced lifestyle and opened a bookstore in Sacramento, California. She soon realized that in order to be successful she would need to leverage the power of the Internet to get the visibility and credibility she needed.
Soon she was writing and self-publishing books on small business marketing, as well as helping aspiring entrepreneurs to make the transition away from the corporate world. Publishing house John Wiley & Sons published her next book, From Entrepreneur to Infopreneur: Make Money with books, E-Books and Information Products in 2006, and this was the impetus for her next career move. She now had an agent, and was starting to speak around the country and consult with authors and business owners. In 2007 she sold the bookstore and the next year she founded Authority Publishing, her publishing company. They are involved with book publishing and social media marketing.
I asked Stephanie to talk about her publishing company. They are a paid service and custom publishers, only working with authors of non-fiction books. As soon as the manuscript is completed they handle everything, including the editing, cover design, interior layout, eBook formatting, and distribution. The focus is on working with business professionals who do not have the time to do everything that is needed in order to produce a professional looking book that will represent them well in the marketplace. She has a team of twelve dedicated people who help her with this. This gives her the time for what she loves, including sales, marketing, and blogging.
We also discussed the marketing piece of publishing, and Stephanie shared her frustrations with going to a 'traditional' publisher. You are paid very little, and they call the shots when it comes to your writing. They even pulled one of the chapters out of her book because they wanted to limit the word count. As an author you must take control of the marketing, and marketing online is her recommendation. She encourages authors to get involved with interviews, Internet radio shows, and blogging in order to get your name and message out to the world. This can also be done from the comfort of your own home. She also utilizes a site called Smashwords, an eBook distribution service, and this is something you will want to know more about as an author.
Stephanie balances speaking in person with virtual events, and feels that this is a skill you want to develop. We discuss how and why to build a local following while you are building your business, and how to do this most effectively right in your own backyard. Be sure to check out Stephanie's books to learn more about what she is doing and to connect with her further.
Visited 1 times, 1 visit(s) today