Why the Year 2020 Was an Amazing Year of My Life
While you may be more than ready to bid farewell to 2020 and welcome in the new year of 2021, I have to say that the year of 2020 was an amazing one for me overall. While at my twice annual marketing event in Los Angeles during the week of March 4th through the 9th and in the days after, the world began to shut down, the United States declared a National Emergency, and we weren't sure what we would be in store for as the days progressed. Setting goals for my life and business made this year more awesome than I could have previously imagined.
Before I share what has been possible for me during 2020 and why it has been a year that was so positive for me in many ways, I want to acknowledge the fact that COVID-19 and the pandemic have taken their toll on all of us in one way or another and that millions of people have been adversely affected. With illness and death, as well as the added political and economic turmoil that has resulted, my heart goes out to every soul on our planet. I have lost two good friends from the virus and two others have serious cardiovascular and neurological issues that may last for years to come or even throughout the remainder of these peoples' lives.
For me, I knew that I needed to prepare myself psychologically, financially, and physically for what was to come. Although I am fortunate to never have experienced depression during my lifetime, I felt like I could become sad and disillusioned in regards to the future if I was not proactive from the very beginning.
Setting Goals in a BHAG Way
One thing I did during the middle of March, 2020 was to set some bold goals for myself. I was determined to make them BHAG (Big, Hairy, and Audacious) goals as my friend and neighbor Jack Canfield has taught us over the years. Mine were in the categories of health, wealth, and visibility. I've been able to achieve them all, and they are all ongoing goals that have now become a part of who I am and how I show up in the world. Keep in mind that these goals were initially visioned and written down for my annual goal setting days I spend during the final two weeks of each year. When the pandemic came into play during March of 2020, I recommitted to making sure these goals I had focused on and committed to three months earlier were a priority in my life every single day.
Improving My Health Required Setting Goals in a New Way
In regards to my health, I had originally set as a goal at the end of 2019 to release at least twenty-five percent of my body weight by the end of 2020. I didn't have a plan, or even an idea of how I would achieve this. January and February came and went without me doing anything more than reviewing what I had written down and knowing that this was still very important to me for a variety of reasons. Then, at the very beginning of March my longtime friend and colleague Denise Wakeman emailed me about the 10 Day Challenge for those interested in learning more about intermittent fasting. I knew that she had started an IF practice about three years earlier and had excellent results. I signed up, knowing that Denise would be a speaker at my live marketing event in Los Angeles the following weekend. This way I could speak with her about it in person to ask any questions I had. Also, this Challenge was not scheduled to begin until the day after my event was ending, so the timing was perfect.
This lifestyle plan for eating, self-care, and mindset resonated with me almost immediately. Whole, fresh foods became the building blocks of my day. No more pills or capsules masquerading as real food. My hair and skin changed into that of someone a decade younger. After two weeks the weight loss became steady and significant. The ringing in my ears disappeared and my ankles reappeared! I plan on staying with intermittent fasting for the remainder of my life because it just makes sense. I "feast" for a small number of hours each day and can adjust these hours to match my schedule for that day. Then I "fast" for the remaining hours and hardly think about eating.
Food is not a focus for me as it has been in the past. As of this writing I have released 25% of my original body weight and all of my health numbers are now well within the normal range. I'm quite proud of this accomplishment. Now I'm a part of the full program, and I invite you to come aboard the Fast Factor Circle if this could be life changing for you as well.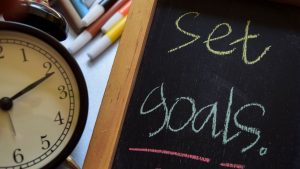 Setting Goals for Wealth and Prosperity
My wealth goal was one I was inspired to achieve by long time friend and mentor Alex Mandossian. He teaches us to increase our income by earning as much in a day or a week as we had previously brought in over a month or a year. The amazing year of 2020 brought many opportunities as my online business grew by leaps and bounds. During the seven day period that included Thanksgiving in the United States, I earned as much as I used to make in an entire year as a classroom teacher. I was humbled by this experience and am determined to pay if forward with the non-profits and charities I'm a part of and support, as well as by offering scholarships to my programs throughout the year of 2021.
As a part of setting a goal to increase my wealth in 2020, I made a plan to connect with people in a bigger way than I had ever done previously. One of the people was someone I had met online in a virtual Mastermind and this is how my collaboration with Norma Esler first began. Norma is the most incredible human being! We had spoken privately a couple of times while we were both in the group. Once it ceased to exist as a weekly Mastermind, she and I began meeting on our own once a week. We have now created and taught our first live course on how to profit with eCourses.  Another project is now in the planning stages.
Even though I have published more than twenty full length, non-fiction books since 2010, my goal for 2020 was to co-author and publish a second book with the awesome Ellen Finkelstein. This book is for people who are speakers, or would like to become a public speaker and turn their speaking into an ongoing revenue stream. This will lead to a new online course and trainings, similar to what we created for our first book for authors who want to create income based on their books and other writing.
I have been formally setting and achieving goals since I began working with Raymond Aaron in the spring of 2005. I had begun to take this process for granted until COVID-19 arrived at my doorstep. Now I review all of my goals in the areas of health, wealth, relationships, and prosperity on a daily basis. I'm always in the process of adjusting, reflecting, and course correcting for these goals and this makes a difference in how I approach each day.
While I do welcome the new year of 2021, I will forever appreciate and be grateful for the life lessons, opportunities, and growth that 2020 brought into focus and manifested for me.
I'm author, publisher, and entrepreneur Connie Ragen Green and would love to connect with you. If you're new to the world of online entrepreneurship please check out my training on how to sell yourself at How to Sell Yourself and Your Stuff and learn how to gain an unfair advantage when it comes to building a lucrative online business.
Visited 1 times, 1 visit(s) today