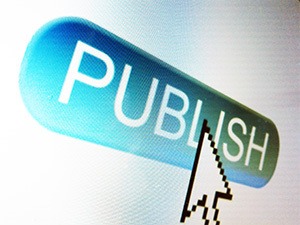 One of my students, let's call her 'Jane', wrote to me yesterday. She has not created a new product in several months, and sales of affiliate products are slow. Jane has set herself up with an online service business to pay her bills, but now yearns for more than the 'trading time for money' life brings in.
Jane asked me what I thought about her creating a course on writing and publishing a book and more specifically, self-publishing for Kindle and Create Space. The course would include getting ideas for a topic, writing strategies, editing, publishing, formatting, and promoting the book as a marketer. She would explore Kindle, Create Space, and other self-publishing options. Her idea was to do this as a live training over four to six weeks at a price point of ninety-seven dollars.
My first thought was 'Why didn't Jane do this a year ago?'
Being the first, or at least one of the first to market an idea is crucial to success on the Internet. Self-publishing for Kindle and Create Space has been a popular topic since 2011 or so. If you sit on your knowledge for months or years you miss out on becoming known in that niche as one of the 'go to' people who is willing to teach you everything you need in order to get started.
Over the past three years Jane has jumped around with her niche, creating several products in different areas, writing a few books, and mostly relying on providing service to others and affiliate marketing to earn income. We must all take a stand for what we believe in so that our prospects are never confused about who we are, what we do, and how we may best serve them. Being wishy-washy will not take you to the next level in your business. Jane is still figuring out what she wants to be known for as an online entrepreneur.
I then recommended that Jane take a look at what the leaders in this niche are teaching. This includes Teresa Miller, Rachel Rofé, Jim Edwards, and Geoff Shaw, all of whom have excellent trainings on writing, publishing, and marketing your writing. I have purchased most, if not all of these people's products so that I can learn as much as possible on the topic as I continue to write and sell my own books on the Internet in both digital and physical format. I have also interviewed all of these people, except for Geoff Shaw (need to connect with him!) for my podcast series.
So what can Jane do to differentiate herself and become well known in this niche? At this point she must find a unique way to build both credibility and visibility, using her own writing experiences and success as a personal Case Study. There's always a new angle, and finding it may be right under her nose. She must make every effort to find a way to enter the marketplace with her perspective and help others to achieve success.
I'm still waiting to hear back from Jane, but my guess is that she has moved on to something else, at least for the next week or so. My mentoring tends to make people think about what they are doing, but few are willing to step up to the challenge of making things happen right away. Never, never, never give up, and know that true entrepreneurs will always find a way to have their voice heard.
Visited 1 times, 1 visit(s) today