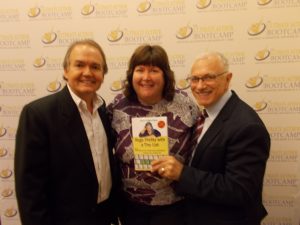 Raymond Aaron – branding expert, New York Times bestselling author, and business and real estate success coach, was my very first mentor. I originally met Raymond in April of 2005, and little did I know my connection with him would completely change my life. As I come to the end of the first year of my podcast series, it just made sense that I would have Raymond on as my guest so you could learn more about this amazing man who has helped so many people around the world to improve their lives.
In the picture on the left, I am with Raymond and Dr. John Gray, author of Men Are From Mars, Women Are From Venus and many other books. We all spoke at the Ultimate Authors Boot Camp in Toronto, Canada. Raymond is holding my first book, Huge Profits With A Tiny List, which is the branding he created for me several years ago.
In this podcast we discuss how transformational change comes about in your life, and why you need mentors to guide you in the direction you wish to take. Raymond knew that I wanted to pursue my dream of speaking internationally, and he has included me in his events on two continents so far.
When I attend Raymond's Boot Camps I am there every minute, taking copious notes and internalizing everything he is teaching. He is a gifted master, and spending a few days with him is like getting a business education that is tailor made for you. He has a way of reaching out to everyone in attendance and making each of us feel like he is speaking just to us.
Find out more about how to attend the next Ultimate Author Boot Camp to change your life forever and achieve your business goals. I look forward to seeing you there during 2013.
Visited 1 times, 1 visit(s) today