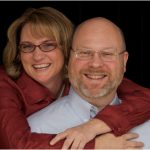 To Ray Edwards, copywriting is 'salesmanship in print'. Ray was the very first professional copywriter I ever met, and in this interview I ask him about how he got started in radio years ago, transitioned to writing web sales copy for some of the greatest names on the Internet today, and continues to be a dominant force in the world of copywriting.
Ray and his wife, Lynn, pictured with him at left, travel the country in their motor home on a regular basis. This lifestyle gives them the freedom to work from wherever they happen to be while also enjoying the beauty and the seasons. They also have two pugs who enjoy taking to the road with them.
You'll also want to check out his latest book, Writing Riches, as well as his membership site of the same name. Ray has graciously given this special link to my community, and if you are interested in learning more about becoming a copywriter for hire or just writing better sales copy for your products and services, this may be exactly what you are looking for. My favorite part of this site is that Ray personally critiques one of the members' sales letters each month, giving everyone an opportunity to improve their skills. I'm sure you will benefit greatly from our discussion here.
Visited 1 times, 1 visit(s) today