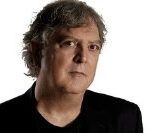 From the time I first heard about Pat O'Bryan I resonated with his message. I read his book, Your Portable Empire: How to Make Money Anywhere While Doing What You Love when it was published in 2007, and I knew that this was the life I wanted. The very next year we met in person at a live event, and now I consider him to be a good friend. Pat is an eclectic thinker, which I find to be pretty rare these days.
During this interview we discussed how he came to be involved with Internet marketing. Still a blues musician, he is now able to have the best of both worlds and enjoy a lifestyle that many of us cherish. Listen as Pat explains what it takes to move from where you are right now to closer to where you'd like to be.
I've been a part of Pat's Portable Empire Coaching program since the summer of 2009. Each week we gather in an online forum and share our thoughts, ideas, and experiences with others on the call. This has been invaluable to all of us, and I encourage you to take a closer look if this would be beneficial to you. Be sure to let us know you heard this podcast when you join and I'll make sure you receive a special bonus.
Visited 1 times, 1 visit(s) today