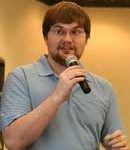 Jason Fladlien has been online for about ten years now, and I must say that he is one of the foremost thought leaders in the areas of product creation, software development, and information marketing. Last year he formed a new business with Wilson Mattos, someone else I have great respect for online and off. I see this as the perfect partnership between two people who are helping others to build profitable online businesses.
In this podcast we talk about how Jason got started as an Internet marketer, how he is so prolific with his writing and product creation, and the 'top secret' project he and Wil are working on that will be revealed this spring. All I know is that it will address the ongoing issue of how to get our emails delivered to our list, and that is huge! I know you will enjoy learning more about online marketing from Jason.
One of my favorite products from Jason and Wil is one on measuring the results of your SEO efforts. It's a WordPress plugin to let you know if your SEO is correct on your sites. Take a look and watch the short video to see if this is for you at Measure Your SEO. They are also experts at doing webinars to promote their own and affiliate products. I've learned so much from their Webinar Pitch Secrets training.
Visited 1 times, 1 visit(s) today