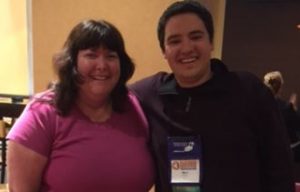 Paul Counts, PLR products creator and serial entrepreneur, is one of the most fascinating people I have ever interviewed for this podcast series. After knowing him online for the past several years we finally had the opportunity to meet in person when we were both speaking at NAMS in Atlanta recently. I know you will enjoy listening to this interview and finding out more about his vast experiences in the world of online marketing.
Like many other online entrepreneurs, Paul got started as an entrepeneur back before the turn of the century. The difference was that when Paul began in 1998 he was only thirteen years old! I absolutely love his enthusiasm as he shares his story with us here.
Soon Paul was working online, and we discussed the idea of becoming an entrepreneur at an early age versus going to college and taking a corporate job. We also talked about the power of attending live events in order to connect with people you can collaborate with later on. That's how he met Jeff Wellman and Eric Holmlund, and soon they became "The Real Guys". That's how I first found out about them and joined their list. Soon I was a regular customer of their training and their PLR (private label rights) content.
We discuss the selling platform known as Clickbank, and why this company remains a major player in the digital product world. Both he and I have extensive experience using Clickbank, me from the affiliate side and Paul as both a seller and an affiliate marketer.
During this interview Paul walks us through his latest PLR, priced at less than ten dollars. We discuss how to best use the content you purchase so that it makes the most sense and gives you the best return on your investment (ROI). He also explains why we need high quality private label rights content on a regular basis and how you can make sure to use it wisely to build your online business.
Please leave a comment here after you listen to this podcast.
Subscribe to all of my Calls in my Online Marketing Tips Podcast Series
Visited 1 times, 1 visit(s) today