Online marketing tips come in a variety of shapes and sizes, and this story is one that can help you to increase your bottom line.
My online empire has grown by leaps and bounds over the past few years, resulting in some major life changes. I now live in two different cities and travel outside of California (sometimes internationally) about once a month as I speak on my topics to entrepreneurs around the world. This means that it takes a small army of people to support and assist me in a variety of ways, including scheduling of flights, connections to hotels and event venues, hotel accommodations, technical support, customer service, email management, and more.
A couple of years ago I realized that I needed someone to shop for me. Before I leave on a trip I need certain foods ready and available to me, and upon my return I have other dietary needs. For example, when I fly I like to have a Subway sandwich to take with me on the flight. I'm busy packing, so it makes sense for someone else to pick up the sandwich for me. When I get home I am extremely tired, and like to have some plain yogurt and a banana before I jump into bed to catch up on my sleep.
The search for the perfect banana has been an interesting one. The first assistant I had was able to help me with a variety of tasks leading up to my departure each time, but upon my arrival back home the only thing I could count on was having some yogurt in the refrigerator.
In the beginning she would purchase three or four bananas for me, none of which was to my liking. They were either too green or too ripe. The green ones upset my stomach and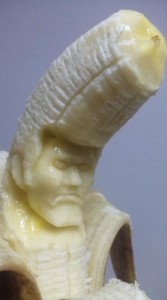 the over ripe ones are just not very tasty. After a few months of ongoing discussion about what the perfect banana would look like for me, I realized that I had the wrong person for this job. It wasn't only the banana issue that led me to this conclusion; she just did not seem to care about following my instructions in the same way each time I was going out of town.
Outsourcing tasks is never an easy decision, but it should be fairly simple. I decided to find someone else to take over all of the duties my first assistant had been doing, but my goal was to find someone who could understand exactly what it was that I wanted.
This made me pause to reflect on what I was asking someone else to do. Was I being too picky? I pay my assistants fifteen dollars an hour plus mileage, so it seemed like a worthwhile position for someone looking to work ten to fifteen hours each week in my local community. Perhaps I was in search of a 'perfect' banana that did not actually exist.
I went back to doing my own shopping and headed to the produce section of two supermarkets in my neighborhood. Before I did this I stopped in to the Baskin Robbins ice cream store near my house. I asked them how they always had several bananas on hand that were just right for making banana splits. They explained the process to me in a way that completely made sense. This helped me to understand that the secret to obtaining bananas that were at the right level of ripeness was in buying them on the correct day. For example, if I needed a perfectly ripe banana on Friday, then it needed to be purchased on Wednesday.
The next week I hired a new assistant. We discussed everything I would need for her to do for me, including going to the post office, the dry cleaners, Subway, and the grocery store. I even had a 'perfect' banana ready to show her when she arrived for the interview. She smiled and nodded when I explained what it was that I was looking for in a banana, and I felt that she would never let me down.
It's been almost a year now, and each time I eat my banana after being away I think about how much time and effort went into bringing it from wherever it was grown to my kitchen.
The point of this story is to make you aware of what you need in order to run your online business most efficiently. It takes a village to keep one person going, and the sooner you find the people who can support you in a variety of ways the better off you will be.
Visited 1 times, 1 visit(s) today