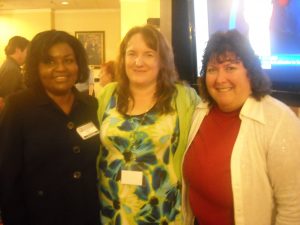 When I think of Nicole Dean PLR (Private Label Rights) content is what first comes to mind, but Nicole is about so much more than that. She has been online for more than ten years and has now become a good friend and someone I wish to emulate in my own online business.
In this picture, Nicole is in the middle, I'm on the right, and one of our mutual students, Adrienne Dupree, is on the left. This is another one of Nicole's best traits – being someone who can share well in her business. That is extremely rare these days. Nicole is not only a savvy marketer and business woman, but also someone we all love to spend time with as well.
Nicole got her start as an affiliate manager for one of the biggest names on the Internet. During those years she worked hard, learned all that she could, and began building her own business. I was one of the newer affiliates who asked her questions about how to set up my affiliate promotions, and she spent the time with me to make sure I understood what I needed to do.
In this podcast we discuss how the 9-11 disaster played a part in her coming online when her children were very small, and how she continues to see life as an adventure every single day. We also discuss the role guest blogging has played in her business over the past few years. She even created an excellent training course on the topic of being a guest blogger, and you can pick it up for only seventeen dollars at Guest Blogging Secrets.
Nicole Dean is someone you want and need to know, and I know you will enjoy hearing our conversation here. You will pick up some tips and secrets that we share on how to build a successful and profitable online business in a way that resonates with your message and the lifestyle you want to achieve. And, if you haven't already, please be sure to subscribe to this podcast on iTunes by clicking on the link in my sidebar.
Visited 1 times, 1 visit(s) today