This is a guest post from my friend and NAMS founder David Perdew, as part of the NAMS Listbuilding Challenge. Please consider coming aboard the NAMS Insiders Club.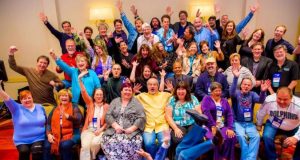 I loved being a photojournalist when I was in the newspaper business.
The camera acted as shield and sometimes I'd put myself in situations that any rational human being would think a little less than prudent.
Like many photographers, I thought the camera was really a bullet-proof vest. People couldn't see me if I was looking through the lens. It was a little like legalized voyeurism.
Today, I'm an online business owner. I still feel like I'm behind the lens a little, watching the world through my computer. Unfortunately, we have to work pretty hard to remove the lens cover so our view can be pretty obscure.
There are ways to actually see what's going on in my world just beyond the URL. And if you incorporate a few tools, you can watch people easily browsing through your site and learn their ways.
Having this capability is especially important at MyNAMS.com right now because it's the beginning of the List Building Challenge. I've set a goal for all the participants to increase their list by 1000 new subscribers in 30 days, whether they have a website or not.
But my goal is to increase my list by 1000 percent – kind of a wild and audacious goal. So, I'm very focused on discovering who's coming to the site and how to capture them immediately with the right lead generator using as many traffic methods as we can muster.
And since I'm pulling out all the stops, leverage has become my driving principle.
There are four tools that we've implemented to give us more insight into the traffic behind our site. I thought I'd tell you about those today.
Zopim Chat Software: Talk to me  
When you walk into a car dealership, the salesman doesn't head to the break room. Nope, they come straight toward you with their hand extended and a warm friendly greeting.
With Zopim chat software, we can reach out and touch our visitors virtually with a little nudge that says, "We're here and if you need any help, please feel free to ask."
And if we can't sit at the computer watching the visitors come and go, we can set a trigger to engage them at certain points and notify us of the interaction request.
We've only been using Zopim for a couple of weeks, but I'm completely sold on it now.
I tried other chat software, but they offered too much or too little functionality for my taste.
One of my favorite features is that you can integrate it with your Skype so chats come directly to you via a virtual agent and because I have Skype on my iPhone, I can actually chat with customers while I'm away from the office.
So, what has Zopim done for us? Just look at the graph below. Zopim also tracks Page Views, Total Visits, Unique Visitors, and Conversations.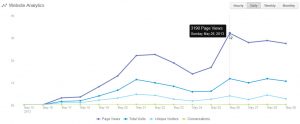 In the short time we've been using the chat software, we've seen page views go through the roof because users are a lot more engaged with us. We can see who's on the site and what pages they are viewing. If they are on a sales page for more than one minute, we've set a trigger to ask them if they have any questions.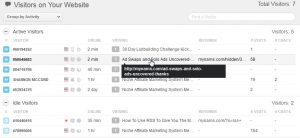 And finally, because it integrates with Zendesk, our support desk, visitors can send submit a chat (when we're not there) and it goes straight to our support desk with a completed ticket.
Overall, Zopim is a hit with us. I don't think we can do without it now.
Google Analytics: So much data and so little time
http://www.google.com/analytics
Neither I nor anyone on my team is a Google Analytics expert.
But we will be by the end of our 30-Day List Building Challenge. There's a gold mine in there.
Of course, I like to go to the traffic section and see where our traffic is coming from. I can even tell which affiliates are actively sending traffic and what kind in the tool.
The real meat though is in the optimization opportunities that Google ferrets out.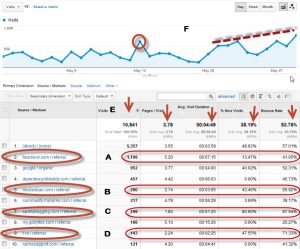 In the "All Traffic" report, we get a lot of fast information:
A: Facebook is my number 2 traffic referral in this time period. But only 13% of those are new visitors, but they are highly engaged. We need to use it Facebook to attract more new people.
B: Nicole Dean  is one of my top affiliates and shows up as that 5th source of traffic (consistently in the top 4 or 5). She's delivering traffic that stays awhile and she's delivering about 43% of new visitors. I need to send her a case of wine…
C: Sparkplugging.com, Kelly McCausey's new blog, is driving some traffic. The bounce rate is high and the time on site low, but the percent of new visitors is through the roof with 80%. A good source of new leads.
D: Twitter (t.co) continues to be a good source of new visitors with good time on site, but a high bounce rate.
There's much more that we can discover through Google Analytics. In fact, a person can go in there and never be seen again. There's so much data being collected.
Visual Website Optimizer: Test everything with one interface
Visual Website Optimizer is awesome.
I hate testing.
My friend, Nicole Dean, says testing is sexy. I think she really means the results you get from testing are sexy, but I won't argue with Nicole.
A/B split testing is a really simple concept:
Create two web pages
Make one thing different on the second
Send equal traffic to the two pages
Determine which one gets better conversions.
Simple idea, huh? And the concept is kind of brilliant. But the work is a real pain the rear. Hardly anyone does testing. It's just too much trouble. The only people I really know that test quite a bit are the really successful people.
And there's the clue.
REALLY SUCCESSFUL marketers test rigorously.
I've been searching for the right software and I think I've found it in VWO. Frankly, we've just installed it for the MyNAMS List Building Challenge and plan to test our conversion pages thoroughly.
You'll have to join us there to find out the results.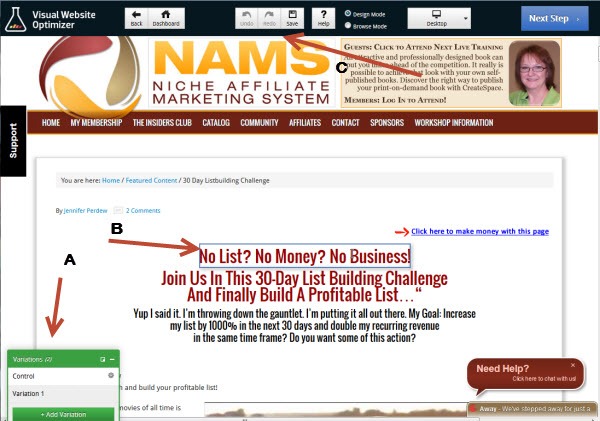 The concept is fairly simple, but I'm still trying to wrap my head around the technical aspects of this.
After installing the VWO plugin, written by Andy Bailey of CommentLuv fame, I'm able to create control and variations of elements on the same page. Instead of creating a second version of the page (a new URL), VWO makes the changes directly on the page and serves different scenarios to a split traffic source.
You can make as many variations – or multi-variants – as you wish.
Come over to the MyNAMS.com site to see how this software helps us increase conversions.
Kissmetrics: But what's that guy doing over there?
http://kissmetrics.com
This is another tool that we're just installing. My friend and NAMS Workshop instructor Jack Born of  Box Shot King fame told me about this service. Kissmetrics collects everything.
Basically, they just grab all the data they can and then slice it and dice from a person's perspective as they were going through the system.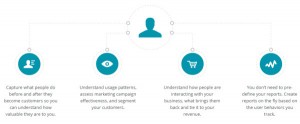 Kissmetrics focuses on a unique unit of measure surprisingly called "People" – as in:
What the person does before and after they become customers
Usage patterns and customer segmentation
How people interact with your business
Reports about user behaviors on the fly
Removing the blinders
So, there are four tools that give us customer insight and help us know and serve them better, while building more and more opportunities to convert more lurkers into actual customers.
To help you build your list, I invite you to join us in the MyNAMS List Building Challenge is an ongoing challenge. Come in and succeed today. As part of the challenge, David is touring the blogosphere and posting marketing and list building insights on different blogs. You can find the complete schedule of all the blog posts – past and future – here.
David Perdew is the founder and CEO of the Novice to Advanced Marketing System and MyNAMS.com. Please join us in the NAMS Insiders Club and get your business up and running with the support of our incredible members.
Visited 1 times, 1 visit(s) today