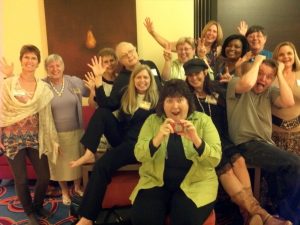 Attending live events as part of my continuing education was a big part of what I did while I was a classroom teacher, but it wasn't until 2008, after I had already been working exclusively online for almost two years, that I first went to an Internet marketing conference to begin my continuing education journey for my online business. It was the Big Seminar, one of the largest events of its kind at that time. There were seven or eight different speakers each day during all three days of the event, and each one was selling a two or three thousand dollar package after they spoke for ninety minutes or so.
These events are not nearly as common these days, with people being more interested in attending workshops and seminars where they are actively involved in the learning process. Two people are the best at doing this – David Perdew and Dennis Becker – and I happen to be speaking at both of these events this summer. I am proud to be a part of the teaching process to help new online entrepreneurs, as well as those already established on the Internet, to move forward with their businesses.
August of 2011 was the first time I attended the NAMS event. Atlanta is a perfect city for this because it is somewhat easily accessible for people coming in from all over the world. David has set this up like a university, with several different 'tracks' for the students to choose from. The instructors – more than 40 right now – take turns presenting information on their area of expertise.  This is a no-pitch event, so the only thing for sale is the next NAMS event. NAMS is held in August and February each year. This year it is August 3-5.
Anyone who attends through my affiliate link is entitled to additional training from me, as well as being able to network with me and our group on Friday night in Atlanta as part of my Roundtable Mastermind. I'd love to see you there!
Dennis Becker's event is slightly smaller and held in Las Vegas each year. This year it will be August 10-12. This event – the Earn 1K A Day Seminar – originally began with Dennis inviting the people he knew the best to share their marketing strategies and tips with people who were just getting started. These people were all a part of his Earn 1K A Day Forum, where I have been a member for the past two years. Take a look at the speakers he has lined up for this summer and see if this is what you need to take your business to the next level. On Friday evening I'll be having dinner with everyone who comes through my link as part of our Roundtable Mastermind.
I learned from my own experience that working from your home computer as you build your online business keeps you isolated from other small business owners and entrepreneurs. This leads to seeing your business in a bubble, keeping you out of touch with your prospects and clients. It also keeps you from the powerful interaction that comes with connecting with other like-minded people in person on a regular basis. Make the decision to attend at least one event every year and I'm sure you will notice a difference in your bottom line.
Visited 1 times, 1 visit(s) today