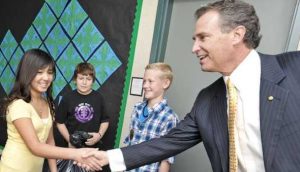 Mike Berger, Santa Clarita 'Man of the Year' in 2006, is a humanitarian and community activist. He is also a long time Rotarian, serving for thirty-one years so far, and that's how I first met him in 2006. He is also on the Board of Directors for the Michael Hoefflin Foundation, has served on the Board of Trustees for College of the Canyons, and has served as president of the Santa Clarita Valley Chamber of Commerce. I am proud to call him my friend.
He's a financial consultant who starts his day at five in the morning, and seems to have endless energy when it comes to helping others. Mike first got involved in Rotary and in the Chamber of Commerce more than thirty years ago as a way to help his business, and soon realized that being a part of philanthropic groups makes live more joyous and meaningful.
I've worked side by side with Mike with various hands-on projects over the years, and he believes that getting your hands dirty is the best way to understand and connect with people in need. Most recently we worked with a group from our Rotary Club to clear the brush from an area used by Carousel Ranch.
His advice to people just starting out, who believe they do not have the time or the money to volunteer, is to find a group that resonates with you and that you can relate to in a personal way. He first helped the Chamber of Commerce by setting up the bar for their monthly mixers. He found this to be an excellent way to meet people in the community. He also helped out at the charity golf tournaments and met many people who were also active in this way. Volunteering in your community is an education in itself, and you never know what doors might open when you are active with a variety of groups and organizations. Mike says that we must put our ego aside and be willing to help out by showing that we are interested in doing so.
We also discussed his involvement in the Michael Hoefflin Foundation, an organization that assists the families of children who are going through cancer treatment, as well as with funding for cancer research. Mike first met Chris Hoefflin, the father of the boy, Michael, for whom the organization was named. He saw a need and moved forward to help them to achieve their goals in a bigger way.
His connection with Carousel Ranch began when he sat on the Santa Clarita Planning Commission. They needed a location to do their great work, which involves the use of horses in equine therapy for severely disabled children. No one wanted this group in their neighborhood, and Mike helped them to find a permanent home.
The Planning Commission position came about after JoAnne Darcy became a councilwoman, and then became mayor of Santa Clarita. She asked Mike to work with the Planning Commission to help carry out the vision for the City. He served for three terms, helping to build out various parts of Santa Clarita, including Bridgeport and the mall. He goes into great detail about what his job entailed during this process. Santa Clarita is a planned community, and you can hear the excitement in his voice as he shares some of what it is to come in this community.
Mike recommends that everyone find a mentor who will guide you as to the groups and organizations that you can become a part of right away. This can be the first step in your personal growth as a leader in your community and as someone who is seen as caring about others and being willing to serve.
Visited 1 times, 1 visit(s) today