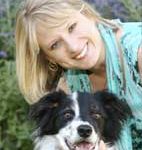 Michele PW (Pariza Wacek) is a direct response copywriter and marketing strategist who has written sales copy for some of the biggest names in the industry. She started writing professionally in 1992, and in 1998 she started her freelance copywriting business. I love learning from Michele on a variety of topics from improving my writing to structuring my business. She's also a dog lover, so it's a perfect fit!
On this call we discussed how she got started working as a freelance writer, and then decided in 2003 to build a business based on her expertise and knowledge and finding new clients online. This took her from what she described as a 'feast or famine' existence of working either eighty hours a week or not at all to having a business that could grow over time and give her more options and opportunities. She recommends that all solopreneurs take a look at what they are doing to see what's right for them. It was also at that time that Michele began attending live events and hired a coach to help her move forward in a big way.
I know you will enjoy this call, and be sure to sign up for a special complimentary package she calls her '$Ka-ching!$ Copywriting and Marketing Business Kit'. She also offers website critiques and a variety of products and services geared at helping you to grow your online business in a way that makes sense for you and your goals.
Visited 1 times, 1 visit(s) today