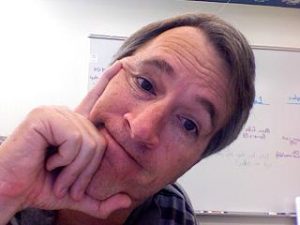 Michael Gunn, list building expert and online marketer, has been online for more than a decade. It wasn't until I connected with Dennis Becker (Earn 1K A Day founder) that I learned about what Michael was doing online. We finally met in person when we were both speakers at the 2012 Earn 1K A Day Seminar. His list building skills are extraordinary, and I was thrilled when he included me as part of his recent List Building Legends course. When he agreed to be my guest for this podcast I jumped at the opportunity.
Still working full time as a technology consultant and trainer for a public school, former teacher Michael Gunn is truly a 'Weekend Marketer' (I'm writing a book on this topic right now.) He exemplifies what it takes to build a six figure business while still working at a traditional job, helping out with his son's football team, and spending time with his family. He's very proud of the fact that he was able to retire his wife because of his online success, giving her the ability to be a stay at home mom to their son and to also help care for her elderly mother.
Michael and I discussed how he overcame 'bright, shiny object syndrome', and how it was Dennis Becker's 5 Bucks A Day training that helped him to focus on what was important. He also credits this training with helping him with time management and strategy in his business. He had to get into the habit of making money online, and changing his thinking and mindset was huge for him. He shares how he has built massive lists in competitive niches in very short periods of time, and what it takes to be successful in Internet marketing these days. Be sure to take a look at his most recent program, List Building Legends.
Visited 1 times, 1 visit(s) today