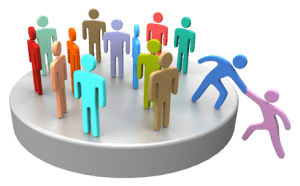 When I first started online in 2006 I longed to have my own membership site. Ideas I had included a site where new online entrepreneurs like myself could gather and exchange information and resources. But I had no list and membership site software ran in the thousands of dollars, so my new venture did not materialize.
Within two and a half years I was part of a Mastermind group that included Stu McLaren and Tracy Childers. They were in the early stages of creating Wishlist Member, and soon after everything changed forever when it came to membership site ideas and realizations. Within a few months I set up my first one, and before the year was out I was running several small membership sites on various topics and helping my clients to do the same.
I was just reading a post by Ali Luke on 7 Tips for Creating and Running Your First Membership Site and this tip jumped right out at me:
#1: Start before you think you're ready

For years, I knew that I wanted to run a membership site. I loved the idea of regular monthly income and a dedicated group of writers to work with.

But I kept putting it off.

I didn't think I was good enough. I didn't think I had enough to offer. But I could've gotten it going much earlier than I did.

You'll never be completely ready. Start it anyway.

Try it: If you're not sure that you have enough to offer, you can:

Start off at a ridiculously low fee. Let your charter members know they'll basically be acting as guinea pigs — and that you'd love their feedback and ideas.
Aim for a minimum viable product (MVP) rather than perfection."
Most entrepreneurs have at least a little bit of the perfectionist in them from their previous job or career experience. Instead, be willing to put yourself out there and offer a simple monthly membership program to those who wish to learn from you.
Membership Site Ideas
What you already know could be the next breakthrough for someone else. For example, I've been blogging since 2005 and along the way have picked up some excellent strategies and techniques for what works when it comes to creating and marketing content to others. A membership site where I share these ideas could be just what my audience is looking for to move to the next level in their business.
What do you know? Make a list of the topics you could write or speak about and see which ones would lend themselves to a monthly membership site. Ideas like these can catapult you to great success and profits. Be sure to check out my popular training course on membership sites here.

I'm author and online marketing strategist Connie Ragen Green. I work with entrepreneurs to create multiple streams of online income and would love to connect with you.
Pick up my Online Entrepreneur's Blueprint and get started right away.
Visited 1 times, 1 visit(s) today