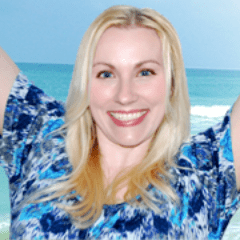 Melissa Ingold , marketing expert and online trainer, is a savvy solopreneur I have been following for several years. She lives in Canada with her husband and children while operating her business from a home office. She's also an expert at partnering and Joint Ventures and continues to be involved in projects with some of the biggest names online.
In this interview Melissa shares her amazing story of starting out in the work force as a single mother without a high school education. She leveraged her situation and had soon risen to the top, when she made the decision to start her own business. Over the years she learned more, gained experience and confidence, and now stands head and shoulders above many other entrepreneurs. Oh, and if you are wondering, she did go back to school to finish her education, making her background even stronger in the process.
Melissa found Kelly McCausey and her Work at Home Mom's group along the way, and soon they had partnered on a project. She is also currently Nicole Dean's partner in a site called Coach Glue, which offers customizable tutorials for coaches, consultants, and other online and offline professionals. Melissa and Nicole are revolutionizing the world of PLR – private label rights – content with this site and making it more appealing for those who have not been clear on this concept up until this time.
You will gain a clearer understanding of what it takes to become a successful online entrepreneur by listening to this podcast interview. Be sure to download your free customizable tutorials and put them to work in your own business.
Subscribe To All Interviews In The Podcast Series
Visited 1 times, 1 visit(s) today