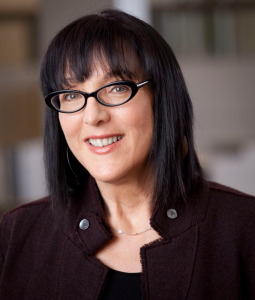 I can't remember exactly how many years ago it was when I heard about Lynda Weinman and her amazing site, but I do know that when I first visited this massive online learning community I knew that I would be able to learn much of what I needed to get my new Internet business off the ground and up to speed quickly. We finally met in person at the Santa Barbara International Film Festival, where Lynda has been a generous sponsor for several years. She was kind enough to agree to be a guest on my podcast series and I know you will enjoy the information she shares here immensely.
When you visit Lynda's site you will see that it opens with the simple question 'What do you want to learn today?'
Lynda has an interesting background, and it was when she was teaching digital arts at the college level (Art Center College of Design in Pasadena, California) back in 1994 when she realized that her students would be interested in publishing their own websites on the Internet. Unable to locate a book on this specific topic, she decided to do the research and write a book herself. It was published in January of 1996 and quickly became a bestseller. She was then able to start her company with the royalties she received from the book. This took shape as a physical school in a city not far from Santa Barbara (Ojai), and her husband was actively involved with it every step of the way. They enjoyed several years of great success before they had to make drastic changes. After the 9-11 incident and the dot com crash they made the decision to bring everything online.
This proved to be a much larger undertaking than they had originally imagined, and they started with twenty of their courses, first available on VHS and then moved online, and then expanded from there. Today they have a digital library of more than a hundred thousand individual videos, mainly around the topics of digital media, marketing, social media, publishing online, and so much more, all organized into more than twenty-five hundred courses with about five hundred instructors and four million students worldwide..
Lynda shared that her company's growth truly grew out of word of mouth referrals from raving fans.
They have made a commitment to bring certain programs and corporations, such as Adobe Creative Suite (Creative Cloud is the latest), Apple, and Microsoft when choosing which trainings to create, but their process is much more complex than just that. She uses 3-D printing as an example of something that is brand new that they have jumped in on the ground floor of with their training. They take both a predictive and trend-driven approach to what they are creating in their courses, based on both qualitative and quantitative analysis.
We also discussed how they select and compensate instructors, and how this makes her company even more unique and valuable. You will love this discussion and gain great insight into the process they utilize to make sure the students receive the very best education available on the planet.
Lynda also introduced me to the concept of MOOC (Massive Online Open Courseware) and went into some detail with this fascinating new approach to online education. Her company is not a MOOC; it's an online community and library of free form training with mashups of the topics you wish t learn. They have a tool on their site that allows you to create a playlist of the exact courses you would need to take in order to achieve specific goals.
She gave us a true 'scoop' in regards to what their next steps are to take their company global. You'll have to listen to the end to hear the details!
Listen to our call and I am sure you will appreciate Lynda and all that she has accomplished as much as I do. Enjoy a seven day free trial by clicking on this link to get started right away.
Subscribe To All Calls In The Podcast Series
(Visited 49 times, 1 visits today)