Are You Living the Mentored Life?
Having mentors in your life gives you an entirely different perspective on everything you do, as well as opportunities you may not have realized were available to you. My best friend growing up was named "Mentor", so I knew from an early age this word meant teacher and trusted advisor. It wasn't until I was out of college and well into adulthood that I understood and took advantage of mentors in my own life. These days I both mentor others and am mentored, and the results have been nothing less than spectacular for everyone involved. Let's discuss what living the mentored life can mean for you.
How can you take full advantage of mentoring, and to choose living the mentored life this year and beyond? Here are some questions to ask yourself as you make this transition from attempting to do everything by yourself to allowing a teacher and trusted advisor to guide you to the results and goals you seek to achieve.
What do I want and need to learn to take me to the next level in my desired area of life or business?
Who do I currently know that is already an expert in this area, and has achieved this goal themselves?
What is the next logical step for me in this process of working with a mentor?
More than likely you already have a good idea of what it is you would like to achieve. Perhaps you want to finally write that book others have been telling you to write. Maybe you want to become more proficient with computers and technology, or playing chess, or with line dancing. These three are all areas I have pursued over the past decade and ones where a mentor made it all so much faster and easier for me to achieve the results I was hoping to master.
A good mentor is honest with you about everything; what you need to do to get started, how you are progressing, when it is time to do it on your own. Being mentored is much like being a baby bird, cared for by a skilled and loving mother and then abruptly pushed out of the nest to fly or sink like a rock. But a great mentor will catch you as you fall, spreading out their arms to glide you safely back to where you need to be at this point in time.
In return, you must trust and be honest with anyone who mentors you. If you are experiencing fear or doubt around the goals you are working to achieve, schedule a time to discuss this with them. If you find yourself taking a turn towards another goal instead of completing the one they advised you on, let them know you're having second thoughts and wish to make a change in the direction you are going right now. They will be the one person best able to advise you, based on the relationship the two of you have been building over time.
For now, make a list of what you wish to achieve during the first part of 2018. Open up your mind and dream big! If I hadn't been willing to do this starting in 2006, I would not be the author of more than twenty bestselling books. What do you want as a part of your life experience that right now seems like it is too big for you to say out loud? Get in front of a mirror, look yourself in the eyes, and say it to yourself, for once you have expressed your desires the next step is finding someone to mentor you to completion and success.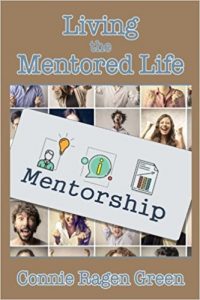 Once you let it be known that you need help with a specific goal, the mentor will appear. When you can trust in this process the magic truly begins. Imagine what this year can bring when you are willing to live the mentored life and finally reach, and even exceed your own potential. I'd love to hear from you on this topic. Sharing your goals and dreams out loud is an effective part of this process of living the mentored life that leads to excellent results.
You may also want to read more I have written on this topic of living the mentored life here and pick up my bestselling book entitled Living the Mentored Life here.
I'm Connie Ragen Green, online marketing strategist, bestselling author, and international speaker on the topics of entrepreneurship and inner game mind shifts. If you're new to the world of online entrepreneurship and "inner game" thinking please check out my training on how to sell yourself at Sell Yourself and Your Stuff and learn how to gain an unfair advantage when it comes to building a lucrative online business.

Visited 1 times, 1 visit(s) today