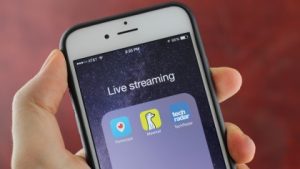 Boost Your Business with Live Streaming Videos
There are a multitude of different tools and tactics that you can use to market your business. For example, you might use video, blogging, and webinars to drive traffic, build your email list or sell products. Each of these tools leverages content as a foundation. Content is the core element of your marketing and content is also the foundation of live streaming.
What is Live Streaming?
Live streaming is a brand new tool that has quickly taken hold. Essentially it's another type of social media and social networking. It's a cross between YouTube and Facebook or Twitter. As a creator, you simply turn on your phone's camera and start recording.
Whatever you're doing in front of the camera is being shown live to anyone that choses to watch. As a member of a live stream network you can tune in to watch live stream "shows" on just about any topic imaginable.
It's Still About Creating Great Content
It's fair to say that some live streamers are simply going about their business of the day in front of the camera. This isn't really a way to grow a business and people won't watch that for long. To capitalize on live streaming it's important to create the same type of plan that you would for any other marketing tactic.
That is you want to create a content plan. Your content needs to be consistently valuable. It needs to provide some sort of benefit for your audience and it needs to help you achieve a business goal.
For example, you might live stream a show every week to offer tips on how to perform specific strengthen building exercises. At the end of each show you might invite viewers to visit you on your blog, to sign up for your email list, or to hire you as a personal coach.
Think About Live Streaming Like Live Television
There will be interactions with your audience. As you live stream, viewers can post comments. You can read those comments in real time and respond, or not. You can answer questions that they post as well. This makes it a very interactive way to share content and connect with your prospects.
Also like live television, there are opportunities to make mistakes. You can say the wrong thing. You can forget what you were going to say. You might get flustered, angry, or the dog might start barking in the background. There are any number of possibilities. It's live!
However, live doesn't have to mean unscripted nor does it mean unscheduled. With the live streaming applications that are available today you have the ability to schedule your shows. This is highly recommended because it will give you an opportunity to promote your show and to grow your viewership.
What other questions may I answer for you on this topic?
Take a Look at My "Video Live Streaming for Introverts" Training
I'm bestselling author, marketing strategist, and entrepreneur Connie Ragen Green and I would love to connect further with you to help you to achieve your goals. If you are interested in learning how to optimize the syndication of your content, please take a look at my popular Syndication Optimization training course and consider coming aboard to increase your visibility, credibility, and profitability.
Visited 1 times, 1 visit(s) today