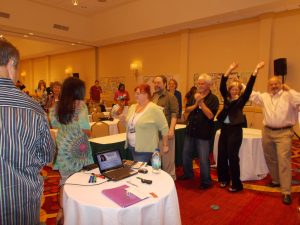 Recently I asked some of my online friends whether they preferred to attend live events for business and marketing training, or if webinars they could watch from home were sufficient. It turns out that many people strongly prefer one over the other, and others are more flexible when it comes to online business training.
The main reason I asked the question was that I have been attending the NAMS Total Business System live event in Atlanta this weekend, where I am a marketing trainer and faculty member. Twice a year I speak and present at this conference, and then throughout the year I'm a part of the online training that is part of the membership site associated with this excellent business training program. Some people attend the live events twice a year, while others regularly show up for the weekly webinar trainings.
One person I asked, Pamela Wynn, brought up an excellent point when she said that she loves the live stream when she is unable to attend in person. NAMS does not currently offer a live stream, but perhaps that could be discussed for the next live NAMS in August. Live stream, if you are not familiar with this, is a way for you to watch the live event from the comfort of home via webinar, based on having video cameras set up at the event location so that it can be 'streamed' in real time to locations all over the world.
Traveling to a live business training event can be difficult for some people due to a variety of scheduling conflicts. William Chaney said, "I would enjoy the live events but not because I learn more, but because I get to inner act with the instructors and my fellow "classmates". However, travel has not worked for me over the past year. For the money I spend on hotels and air travel, I can purchase much needed products to help me on my quest."
Tara Kachaturoff said that because of her other commitments, it's best for her to attend webinars. She can only attend local events live.
Melissa Ingold says "I love being able to learn from home because traveling to all kinds of events just isn't doable when you have kids. The reason I decided to go into business for myself was so that I could take care of my kids and be with them, not so I could travel more than I'm home – which I've seen so many business owners fall into and it kind of defeats the purpose of being a freedom based entrepreneur. However, I think going to some events is a great for networking and learning. I've never been to an event yet, but I plan to attend my first offline event this August."
Others like to learn from both webinars and live events. Robin O'Neal Smith said, "I like both! Live events are great for networking and asking questions. I also enjoy and learn a great deal from webinars." Adrienne Dupree agrees, stating that "I love live events so I can meet the people I hear online. I also am a webinar junkie. I could attend a webinar every day if I had enough time. There is so much information out there."
Some of my friends feel very strongly about the importance of attending live events. One of them, Brad Spencer, says "I prefer live events by far…webinars are too linear the way most do them. Live events= party atmosphere (educational party) Webinars= (most times) boring like high school (full disclosure: I know you're a pro teacher, Connie, and you rock!"
Colin Theriot explains, "You MUST attend live. The networking is the whole point. The WORST is when you go to a live event and a bunch of the people there just go up to their rooms and go to sleep instead of mining the gold that is in the hall and at the hotel bar and out to lunch, etc."
Debbie O'Grady shared that "I love attending live events to meet face-to-face with the people I've "met" online. It gives me the chance to interact and know people better.
As Jeremy Ginn put it, "There is something powerful about shaking hands, eye to eye, smile to smile that you just miss on a webinar!"
How do you feel about this issue? I'd love to hear your thoughts on whether you prefer attending live events or webinars to grow your online business.
Visited 1 times, 1 visit(s) today