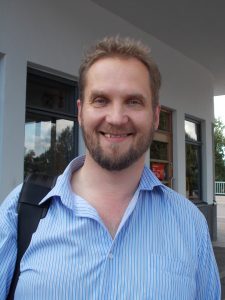 Juho Tunkelo is a direct response copywriter and conversion optimization expert living in Helsinki, Finland. I had been following Juho for several years and finally met him this summer while visiting my family in Finland. He's warm and funny, and I spent several hours with him, his wife (who also does some writing online), and his two children in a town called Hyvinkää. We talked about many things, including the difficulty of learning the Finnish language, his favorite iPhone apps, and his summer cottage.
I asked Juho what it's like to be an online entrepreneur in Finland, a country that is based on relationships formed in the workplace. He told me that this is indeed an issue for him, and that is what led to him taking a part-time job at a company where he handles a variety of assignments, writing and critiquing the sales copy and helping them with traffic and conversion for their sites.
During this podcast he explained how he came to get started with direct response copy writing, why his English is almost flawless, and the role of SEO and conversion tactics in what he does every day. Juho also shared tips for anyone wanting to become a copy writer and spoke of meeting Gary Halbert, one of the greatest in this field, before he passed away in 2007.
Juho is a consummate professional who does a thorough job of getting to know the product and its creator before ever writing a word of copy. If you would like for him to do a critique of your sales letter, contact him through his site.
Visited 1 times, 1 visit(s) today