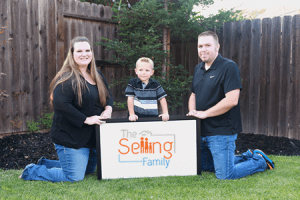 Jessica Larrew, Amazon FBA (Fulfillment by Amazon) expert, has been selling physical products on Amazon for the past five years. Three years ago her husband left his job to join her and together they are raising their five year old son and living life by their terms.
I share how I sold a textbook on Amazon several years ago using Amazon's FBM (Fulfillment by Merchant) program, and Jessica explains how she purchases products from retail stores, as well as online from suppliers, to sell through Amazon's FBA program. Her business model is one that is easily duplicable. She looks for items in a variety of areas, including health and beauty, household products, and toys. This is referred to an 'retail arbitrage' and can be quite lucrative to those who learn how it is done. And the best thing is that you can get started for about a hundred dollars.
We briefly discuss the private label model, one which requires a larger investment and more time to get it off the ground. You may find out more about this model at this course that I highly recommend.
Jessica now offers her own trainings on this topic based on her five years of success, and you may sign up for three free videos to learn more about what she has to offer. I really loved when she explained that most people earn at least a small profit, and the worst that will happen is that you'll break even. You can't say that about too many business opportunities these days!
I have many students who continue to learn from Jessica, and I am one of them. Even with her great success she remains down to earth and approachable. She and her moderators are available to answer questions 24/7/365 (they are in several time zones) through her forum, making it possible for you to move on to the next step in the process. Having people with so much experience will definitely shorten your learning curve.
We discussed how she came to realize that this was a viable business for her family. While pregnant with her now five year old son, Jessica decided to move forward and learn more about Amazon FBA. Not having to fulfill and ship orders freed up her time and gave her the insight to expand very quickly. When her husband observed what she was doing he began to ask questions and soon joined her in the family business, leaving the job he did not enjoy behind forever.
One of my favorite models is selling groceries on Amazon. Jessica's training on this is the fourth one down on this page. What questions do you have about selling physical products through the Amazon FBA program?
Subscribe to This Podcast on iTunes!
Learn how to set up and host your own podcast series within 72 hours…
Visited 1 times, 1 visit(s) today