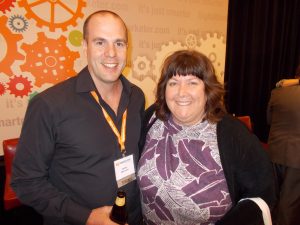 James Schramko, podcast host and online entrepreneur, is my guest this week. His main site is at Super Fast Business. He's an Aussie, and we spoke while he was on holiday in the Philippines. I had finally met him in person while we were both attending the Traffic & Conversion Summit in San Francisco earlier this year.
James and I have known each other informally since joining Dennis Becker's Earn 1K a Day forum. James has been there since the very beginning, and has been awarded the coveted 'Member of the Month' designation twice. He believes that this forum is successful because Dennis puts his heart into it, and I agree with that wholeheartedly.
We talked about the podcast James hosts, and he has had more than half a million downloads since it began. It's now at almost seventy thousand downloads each month, and he attributes that not only to his web site but also to the Joint Ventures he's done with his co-hosts over time. He has several podcasts, and that's the model I am following by now hosting two different podcasts for my target audience.
Our interview took an interesting turn when I asked James about his books on Amazon I had located. In this case, he was not aware of having any books available there. It turns out that someone published his content without his permission and he will be following up on that. We must always 'Google' ourselves to see how and where our name is showing up for the world to see.
James sees the Internet as a marketing 'channel', and transferred many of his offline business skills into an online business to benefit from massive leverage only available to those working online. According to Peter Drucker, the purpose of any business is to attract and retain customers. James started out with affiliate marketing before moving on to his own products and services as a long-term approach to business.
He recommends working on your mindset to raise your level of confidence. Once you know where your talents lie, improve upon that and build a sustainable business.
James and I also had an interesting discussion about attending live events that you won't want to miss. We must think globally instead of locally. Listen to this podcast to learn more about how James Schramko has built a global online empire.
Subscribe to this Podcast Series
Visited 1 times, 1 visit(s) today