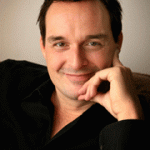 When you hear the name James Roche, information products may be the first thing that comes to mind. But James is about so much more than that. He's a master coach and strategist and has helped his people to grow their businesses in a major way. He partnered with Ali Brown in 2008 in order to serve an even larger audience.
James and I discuss relationship marketing and how he came to connect with Ali and some other people in order to grow our businesses in a huge way. He also shares how he met Melanie, his wife and soul mate. You'll love his story about the wedding cake. Then we moved on to the topic of creating successful information products. James is an expert in this area, so I encourage you to takes notes as you listen to this podcast interview.
He believes that you must talk to your clients and prospects to be able to identify the problems and solutions of the people who will want to buy your products for years to come. It's a dialog between you and your market, where your information product solves the problems they are dealing with in their lives.
Finally, we discussed James' take on the trends and changes the Internet is undergoing as it applies to online entrepreneurs. Things are easier now when it comes to the technology. We are now in Web 3.0 and everything is more niched with micro-communities. We are able to be a personality and share our own style with our tribe or community. Part of our USP (Unique Selling Proposition) is standing out and providing value to others. As online pioneers we have the opportunity to share our viewpoints with others and build a following of people who know, like, and trust us. It's about so much more than just providing information to others. James encourages us to be ourselves and be interesting while also providing great value. It becomes more about lifestyle and storytelling than traditional marketing.
You can download a Free Special Report from James Roche and learn more about how he can help you to achieve your online goals.
Visited 1 times, 1 visit(s) today