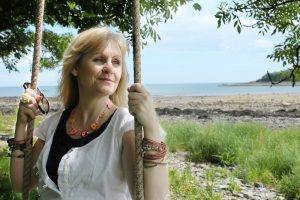 During this podcast I had the pleasure of speaking with Heather Bestel. Originally from Liverpool, home of the Beatles, Heather made the conscious decision to move with her husband, Peter and young daughter, Zoe two hundred miles away to South West Scotland to pursue the dream of downshifting, simplifying and reducing stress. The result was a positive one in that they changed their lives and Heather got her business off the ground as an online entrepreneur.
Heather and I connected online way back in 2007, and she credits me with helping her to keep it simple, stay focused on her goals, and to avoid the bright, shiny objects that sabotage so many entrepreneurs. Her business and programs continue to grow and you can learn more about her "Happiness Garden" here. When she describes it in great detail during this podcast you will know that it is an inspired undertaking that is worth your closer inspection.
I truly love the way Heather has chosen her life's path. She says that her life is quite wonderful, by design, and that she goes out of her way to keep it that way. It is a very simple life and she likes things simple, as I do. She has all she needs and is grateful. She makes sure to have balance and everyone around her is happy. Part of this includes having husband Peter working  closely with her as her tech guru and being able to travel with daughter Zoe as she pursues a career in music. None of this would be possible if they had chosen more traditional jobs and careers.
I know you will enjoy this podcast interview as you get to know Heather Bestel. And consider joining her one year program in the Happiness Garden!
Subscribe To All Interviews In My Podcast Series
Visited 1 times, 1 visit(s) today