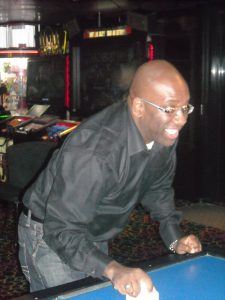 When I think of Greg Cesar, classified ads, AdWords, and overall marketing strategies come to mind. The picture on the left was taken on the cruise ship during one of Jim Edwards' events, and that is Greg in the process of winning a game of air hockey against Jim. Greg and I have been friends since 2008, when we met at Big Seminar in Atlanta. Since that time we have shared the stage on two different occasions, and I have continued to learn from him and have him share his knowledge and experience with my students.
During our call we discussed how most anyone can get started online with information marketing, and how Greg has taken his 'out of the box' thinking to new levels with this. I shared a 'blast from the past' with Greg as I pulled a twenty-five year old book from my shelf on how to use classified ads to build your business. He gives his insights on this and why, to Greg Cesar, classifieds as still make sense today. If you want to get your products in front of more people, this is an excellent way to do it, and at a very low cost.
My students continue to tell me how much Greg teaches them, and how he steps in personally to make sure their sites are earning to their full potential. He's a born teacher.
We talked about the best niches to go into, how to best monetize your sites, and what type of sites are most effective when it comes to marketing online. Greg was also gracious enough to give me the link to a webinar we did recently that explains how you can move forward quickly with the approaches, systems, and methods he teaches as a part of his Creative Marketer course. This program is the most popular training he has, and my students love what Greg is teaching them there every month.
Please watch the webinar replay for our training on the Creative Marketer's course, and be ready to take lots of notes.
Visited 1 times, 1 visit(s) today