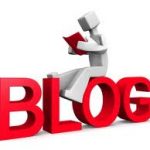 In 2005 I started on a path that led me to leave my job as a classroom teacher, give away all of my real estate clients, and come online full time in 2006. I had no idea where this would lead me, but now I know that I was meant to change my life in a big way at that time.  I do believe that anyone can make this type of change in their life, but you must take the necessary steps to ensure you are building a business that will sustain you for years to come. This requires hard work as you build a list of prospects and clients, increase your online visibility, and set up the systems that will bring the profitability necessary for a successful business on the Internet.
Start by setting up a hosted WordPress blog. The hosting account will cost you less than a hundred dollars a year, and enable you to set up as many sites as you want to over time without any additional cost. I recommend A2 Hosting because of their customer service and c-panel features. This will also mean that you own your blog, instead of trying to start a business by using a free blogging platform, such as Blogger, that you could lose at any time if it gets shut down. Start out by posting about yourself and what you are working on. It will seem very personal in the beginning, and over time you will find that you are sharing more and more on your topic.
Include an optin box on your blog so that visitors can sign up to join your list to find out more about what you are doing. You'll need an autoreponder service for this, and I recommend using either 1 Shopping Cart or Aweber for this. You will need to put together a check list or short report on your topic to offer as the free giveaway for this. Long ago people would sign up to receive an Ezine or a newsletter, but now everyone expects to receive some time of complimentary information, in audio (mp3), video, or written (PDF) format, as their incentive for signing up to be on your list.
Next, be sure to use your keywords for your blog post titles so that the search engines begin to see what you will be talking about. This can be a confusing part of the process, so take a look at other people's sites to see which words and phrases they are optimizing for on their blog. Google offers a free tool, their Keyword Tool External, to make this much easier to understand. Don't worry if this part of the process sounds confusing right now. Just know that we are found on the Internet by the words we use to describe our niche topic.
Now it's time to monetize this entire process. You'll need something to sell, so think about choosing an affiliate product in the very beginning instead of creating your own product right away. The best choices for this are products and services you have purchased and used in your own businesses. By recommending these to the people who come to you for help and information, you can begin to start the steady flow of income that will lead to online profitability in your online business.
Getting started online can be broken down into a series of actionable steps, and starting your own hosted WordPress blog is the first step to online success.
Visited 1 times, 1 visit(s) today