Today's online world is more competitive than ever before, yet lots of people are catapulting themselves to success in record time. I've been working exclusively online since 2006, and based on my experience have come to the conclusion that there are three primary things you need to successfully get started online. Business you can do from your home computer, or from wherever in the world you happen to be is a worthwhile goal. These three crucial things you need are:
Take a few moments to think about this before I go on.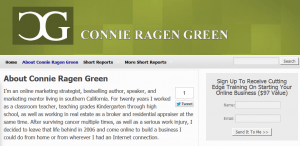 Why do I so vehemently believe you must have a blog, a book, and a podcast if you are going to build a lucrative business online? Because this gives you the opportunity to get in front of millions of people immediately, without having to do any paid advertising or even to leave the comfort of your home. Allow me to go into greater detail on this.
Your blog, which I recommend you have set up at YourName.com (my main site is at ConnieRagenGreen.com), becomes the hub or central location of everything you do in your business. I have often referred to a blog as being 'Your Home on the Internet'. You own and control this site and may write about your topic in a way that will attract the right customers and clients to you. Make sure to have an 'About' page that tells readers more about who you are and what you intend to share on your site. Use your keywords in your post titles and this will help others to find you more easily. Share your posts on social media sites to let others know what you are doing and how you may serve them.
Your book gives you the platform to share as much or as little as you like about your topic, in a way that will help readers to more fully understand the specific topic or topics you are an expert on. Yes, everyone is an expert in some area or can become one with some effort. Whereas your blog covers a more general territory around your niche topic, your book is more specific. You can see all of my books here.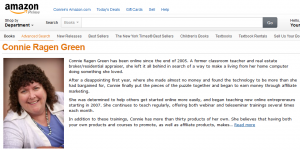 Amazon changed everything when they opened up the world of publishing to all of us about six years ago. It is now easier and simpler to become a published author than it has ever been in recorded history.
Your podcast brings your voice to your target audience in a way no other medium else can. I always say that allowing people to hear your voice is the next best thing to meeting them in person. Some people will resonate with the sound of your voice right away and want to engage you further through your products, courses, and coaching, and others, well, others won't. Give people the chance to hear you as soon as possible.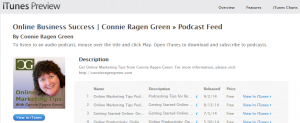 Find out more about my podcasts here. Apple's iTunes has become a huge search engine, and people will be able to find your podcast, which means they are finding you when they search for the words you use to describe your topic.
You want to tie all three of these marketing tools – your blog, your book, and your podcast – together so that anyone who finds you in one place will also find you in the other two online locations. For example, I write about my podcasts and my books regularly on my blog. In my books I share more about my blogs and my podcasts. On my podcasts I tell listeners about my books and my blogs.
Does this seem too overwhelming to do all at once? The good news is that you can do it on your own timeline, as long as you commit to getting started as soon as possible. Start your blog today if you haven't already. Put it in your marketing calendar (you do have one of these, don't you?) to post at least twice a week during the first year and at least once a week for the following two years. That will give you one hundred posts that will become your body of work online. Look into starting your own podcast.
The good news about all of this is that the cost is extremely low. Invest in a Mentor to guide you towards your goals and you will be a successful online entrepreneur before you know it. Get started online! Business has never been so lucrative and so much fun. As an online entrepreneur, what is your plan to make this happen for yourself and for your business?
Get started with all three things – your blog, your book, and your podcast – by attending my
Weekend Marketer Live Workshop in Las Vegas October 10-12.
Contact me directly for discount pricing. I have nine spots remaining.
Visited 1 times, 1 visit(s) today