Making The Transition From Employee to Entrepreneur
Recently I spent time with a group of newer entrepreneurs in a workshop setting. As we sat together that afternoon the conversation turned to the idea of connecting with a non-profit group as a way to network with others. I'm a Rotarian (Rotary is an international service organization) and they were discussing the cost of being a member of this group. One woman said that she had been told that her local Rotary Club cost about seven hundred dollars a month to be a part of, and I reacted strongly to this by saying that the dues were about three hundred dollars a year and that the cost of the meal each week would run somewhere between eight and thirty dollars. I was shocked in part by the fact that information had been obtained second hand, instead of more directly from the organization itself. But I sat back as the group discussed the pros and cons of being a member of a non-profit group like Rotary. The cost appeared to be the first aspect of this that would make the difference as to whether someone would even visit a Rotary Club meeting in their local city.
I realized very quickly that I was actually witnessing a conversation about the difference between employees and employers, and what it truly means to go from being an employee to an entrepreneur. It's a mind shift that takes some time, and cannot possibly occur until you set your intention and take action on your goals.
When I left the world of classroom teaching and working part-time in real estate behind in 2006, I worked hard at making the transition from employee to entrepreneur. Even though I owned my real estate business, I was far from being entrepreneurial in my day to day activities. The bulk of my income continued to come from teaching, and the employee mentality was a strong one I would have to overcome.
As an employee I looked to my supervisors and administrators for guidance on what actions to take each day. I had some say-so as to what I could do with the children in my classroom, but it had to fit into the structure of what the school and the school district has decided. Now don't get me wrong here; I had lots of ideas about what would work effectively in the classroom and wanted to share and implement those ideas with others. But the truth was that I was not being paid to have what I considered to be fresh and innovative ideas. No, I was being paid to follow directions and achieve specific results.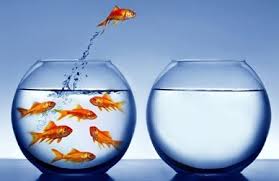 Once I left the classroom I began to see things very differently. Soon I was thinking of myself as a creative thinker and everything began to shift. Instead of thinking about how much it would cost for me to join Rotary and be a part of a worldwide organization that could help more people than I could even imagine, I jumped in and got to work. And the interesting thing is that my business took off as a result of the people I met at Rotary and the shift in my thinking that occurred as a result.
Do whatever it takes to achieve your goals. Refuse to continue thinking as an employee who needs constant instructions and direction as to what to do in each situation. Make a conscious mind shift from employee to entrepreneur and jump in with both feet to what is possible in your life and your business. Networking with other like-minded individuals is a crucial step in this process. You can't possibly change without changing your surroundings, and that includes the people along with the scenery.
Which people and groups do you consider to be a crucial part of your success story?
Visited 1 times, 1 visit(s) today