Are you making any of these email marketing mistakes?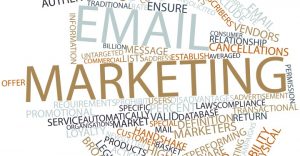 Email marketing is very effective, and there are some who people believe that email marketing is literally the most effective form of marketing that ever existed. But, you may be misusing this form of marketing if you're not setting everything up right from the very beginning.
1. Building An Untargeted List – If you've spent time building your list using lead bait that is not targeted and focused enough, you may have a lot of freebie seekers on your list. To clear your list, run an aggressive and targeted campaign to get them to pay attention and if they don't, cycle them off your email list. I know marketers who only build "buyer's lists", but to me this seems too restrictive.
2. Meaningless "From" Name – We all look to see who an email is from before anything else. Set up a "from" name that makes sense to your email recipients. Many people use their real name, and this has proved to be one of the best choices. You can also make it personal by using a name that means something to the audience like "Your Online Mentor" or something that speaks to them in that way. I simple use "Connie Ragen Green" in the majority of my autoresponders and broadcast messages, but I have been known to use a variation of this like "Connie Ragen Green | Internet Marketing Six Pack" to designate a specific course or product.
3. Weak Subject Lines – Most people don't open emails that they feel are too sales oriented. Therefore, put something in the subject line that directly tells them what's inside, and makes them want to read more. Break up your list and test at least two different subject lines to see what works best. I have been known to use song lyrics as my subject lines, as well as word play and interesting questions and phrases.
4. Poorly Worded Opening Sentence – Most people view part of your messages in the view screen of their email software. What do they see when reading that first sentence? Spend some time making it interesting enough right up front so that they want to open it to read more.
5. Lack of Personalization – Even when audiences know that this is automated, they still prefer it over the lack of it. Personalization increases click-through rates enormously, so make sure it is working properly. Wrongly coded personalization is worse than none at all. Test your messages. Remember that #2 above, the "from" name is most important, with the personalized approach coming in a close second to that.
6. Broken Links – Nothing is worse than having a great message, a perfect call to action, fabulous subject lines people clicking through, only to discover the link is broken. That's why testing messages before sending them out is so important for your success with email marketing. Remember that you must use the http:// at the beginning of your links if you are sending text emails, and that the first letter of your domain should be lower case.
7. Not Using Analytics – Your email marketing software offers the ability to test many different analytics, from open rates, to click through rates and more. Learn how to set it up to work for you so that you can use that information to improve your marketing.
8. Emails That Are Too Long – While long blog posts are a big deal today, long emails aren't. People get bored reading emails that don't get right to the point. Avoid emails that are much longer than two hundred fifty to three hundred words. Get to the point as soon as possible.
9. Bad Formatting – This is yet another reason to test how your emails look on a variety of systems. Make sure you check for formatting issues. Formatting that makes the email hard to read, lack of word wrapping, and unresponsive messages all lose clicks and may lead to unsubscribes over time.
If you are making any of these email marketing mistakes, you can begin right now with fixing these problems. The hardest one to fix is proper targeting of your market, but the rest can be fixed today with just a few tweaks.
I have used several different services to send out my emails, and have used and recommended Aweber since 2010.
What other questions do you have about email marketing mistakes, techniques, and strategies for your online business?
Visited 1 times, 1 visit(s) today