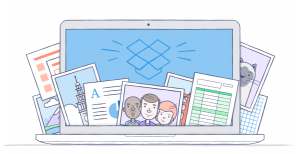 Dropbox is a service that allows you to store your content in the Cloud. I started out with the free version, which you may access here, and when I realized how simple it made my business I upgraded to the paid version. In a recent post at their blog, the good people at Dropbox explained how they have added a new feature in case your computer falls into the wrong hands. Here is an excerpt from that post:
"Remote wipe lets you delete your Dropbox files from a lost or stolen device while keeping them safely backed up in Dropbox. For example, if you've ever left your laptop on a plane, you're not just worried about the laptop — you're worried about the stuff that's on it."
You can also share folders with others through your Dropbox account, giving them their own unique password. This is an excellent feature if you work virtually and have several people assisting you on a variety of projects as I do. In addition, I have pictures, videos, audios, and all of my written documents backed up and saved with Dropbox. There are so many more features I'm not going into detail with here, and once you give it a try you will not know how you ever lived without it!
Visited 1 times, 1 visit(s) today