Why Doing Business the Old Fashioned Way Makes Sense
Long ago, before the internet or television or broadcast radio or the telephone or email or smart phones or even the printing press were invented, business owners got the word out about what they had to offer in a unique way. They actually had to talk to people in person. Gasp! That's right, meeting prospects and clients in person was doing business the old fashioned way and it worked.
I propose bringing back this ancient art of communication during 2019, to at least the partial exclusion of modern day methods. Are you up to it? I believe it will be worth your while. How about if I challenge you to do the majority of your business and marketing in person and/or by telephone (not your smart phone) for the next 30 days?
With the magic of technology, telecommunications, and more in the online world it may be difficult to imagine having to connect with your prospects and clients face to face or on the telephone. But it can be done and here are some ideas on how to accomplish this task.
Now I know what you are thinking; "Most of my clients do not live anywhere near to where I live; many are on the other side of the world. Even if I call them on the telephone it won't be enough to do business in a way that makes sales."
For the purposes of this challenge let us assume that you will only be reaching out to people within a specific mile radius from your office, or within a certain driving distance. Yes, this was what it was like many years ago.
To get started with marketing the old fashioned way, access your list of prospects and current customers and clients in the database you have for this purpose. Is it only available online? Print out a hard copy quarterly so you may access it quickly if need be. For reference, I worked for Security Pacific National Bank and Liberty Mutual Insurance in the days when everything was printed as a hard copy each day and no one had a computer or terminal at their disposal, and this was during the early 1990s.
I believe this style of doing business the old fashioned way requires a bit more preparation. If you call someone and agree to meet them at their office in an hour and the traffic is backed up, you wouldn't be able to send a text message or call from your smart phone in the car.
By now you may be asking "What is the purpose of this exercise? We have advanced technology at our fingertips. Doesn't it make more sense to use these innovative tools to do business?"
Yes. And no. Meeting in person to do business has become a lost art. It is one that is worth revisiting, I believe.
Let's assume you have made a call to a new prospect and they agree to meet with you. When you show up at their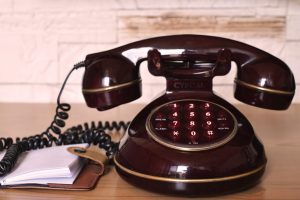 office or other meeting place the first thing you do is shake their hand. This gives you an immediate connection with them and them with you that cannot be replicated through a phone call, email, or text. Next, you make some small talk about your family, your vacation, and anything else that comes to mind. This allows you to find some commonality before you begin discussing business.
Doing Business the Old Fashioned Way Builds the "Know, Like, and Trust" Factor
We tend to do business with the people we know, like, and trust. It is worth your time to connect with people in person so they have the opportunity to learn more about you as a person, rather than as just someone offering them a product or a service.
Where do you meet people to better establish your relations? I thought you'd never ask. Reach out to your local Chamber of Commerce, attend meetings of service organizations (Rotary is my first choice), and visit local referral groups. You will even find there is some overlap with the people who are a part of these groups. These are the ones who understand the value of face to face communication and relationship building. Shake their hand and introduce yourself.
Get started with local business marketing with the How to Market for Small Business training course I teach with local business marketing expert Ron Tester. Use coupon code LOCAL for a significant discount. Be sure to validate your coupon as you check out.
Visited 1 times, 1 visit(s) today