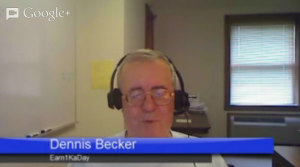 Dennis Becker, Earn 1K A Day forum founder and creator, has become someone whom I consider to be a close friend and confidant. We met online just three short years ago, and then briefly in person soon after when we were both attending an event in Austin, Texas. As I began to see how knowledgeable Dennis was when it came to getting started online, I signed up for his products and finally became a member of his Earn 1K A Day forum.
I also became a good affiliate for him during that first year, and that's how we first made a connection. It wasn't until I began to spend more time in the forum that I appreciated what he had put together.
Dennis has gathered some of the biggest names working online today, including Jason Fladlien, Wil Mattos, Jenn Dize, Justin Popvic, James Schramko, and others, along with people brand new to the world of online marketing and everything in between. It's become a safe haven for both novice and seasoned entrepreneurs to do what I call 'think out loud'. We can share our thoughts, ideas, concerns, and dreams along with our product ideas, copywriting questions, and basic questions about how to make money on the Internet.
This week marks the sixth anniversary of the Earn 1K A Day forum. Very few sites make it this long and stay active, useful, and vibrant. It's the people that make the difference, and Dennis attracts people who are in this for the long haul, not those looking to make a few fast bucks and then move on.
Even if you are not familiar with Dennis Becker, I'd like for you to take a leap of faith and join me in this amazing online group. In honor of the sixth anniversary celebration, Dennis is offering some amazing bonuses, including access to a thirteen week audio coaching program, almost a thousand products in what he calls the 'Product Vault', and more.
I've also put together a Bonus Package for the first twenty-five people who join through my affiliate link and still have some openings for that. This includes:
5 of my most popular information training products
A six week 'Summer Mentor Program' to be held during July and August
2 one-on-one sessions with me starting in June
An opportunity to guest post on my two main blogs (this is one of them)
Google Hangout on your niche topic (I'll do this with you)
Mention of your blog in one of my emails (this is HUGE!)
By now you can see that I think the world of Dennis Becker and his Earn 1K A Day forum. That's why I'd like for you to be a part of it as well and enjoy the benefits that I continue to receive from Dennis, the hundreds of other members, and the products, content, and materials that are shared with and available to us as members.
When you join the Earn 1K A Day forum through this link, leave a  comment here or email me directly to let me know you are ready to get serious about building your online business and I'll add your name to my list.
Visited 1 times, 1 visit(s) today