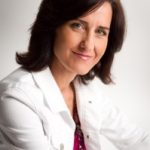 Debbie LaChusa was one of the first people I connected with when I came online in 2006. I signed up for her 10 Steps Marketing course and learned so much about how to make the successful transition form the corporate or offline world into the life of an online entrepreneur. Debbie has many years of experience in the corporate world, and has been featured in magazines, websites, and blogs such as Entrepreneur, Forbes, CNBC, and Yahoo! Small Business. She has written her new book, titled Breaking The Spell: The Truth About Money, Success, And The Pursuit Of Happiness, to share her journey with others.
We discussed how the pursuit of more and more money does not bring happiness into your life, and the idea that serving others, whether through your daily work or other outlets leads to a more meaningful life. You will gain greater insight into your own business by listening to this call.
Click here to listen to all calls in my Podcast Series, or go directly to iTunes for your free subscription.
Visited 1 times, 1 visit(s) today