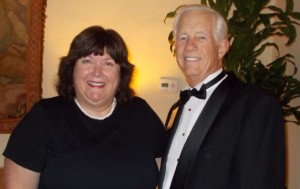 Dan Poynter – book publishing expert and self-publishing pioneer – is my guest for this week's podcast. He has written more than one hundred thirty books and has self-published books since 1969. He now travels the world (he's been to more than forty countries) to share his message and information on writing, publishing, and marketing books. In the picture on the left I am with Dan at his annual Global eBook Awards event in Santa Barbara.
He encourages us to write about what we know, and to have a different website for each book we publish. He also draws a distinction between authors and writers and shares his thoughts on using editors as a part of the writing and publishing processes.
People write books for a variety of reasons, including credibility and building additional profit centers. He has said that he doesn't want anyone to die with their book still inside them, and Dan continues to live this message every day of his life.
We also discuss the major differences between the fiction and non-fiction markets, and how each of these can be used to build our platform. Dan has developed something he calls the 'Binder Concept' to make sure we have enough time to write all of the books we want to. He uses this method to keep his thoughts and ideas clear and organized. He shares how he used this the day after the Northridge Earthquake and now uses his iPad to make his writing projects portable and available at all time.
He believes that self-publishing is the only way to go now, and that this method results in faster time to market, more profits, and a superior way to build your platform. Traditional publishers may take up to eighteen months to publish your book, and during this time your book may become out of date. Dan shares a method for getting testimonials that I had never heard of until today.
Dan Poynter is a rare gem and I know you will learn much from our conversation. Visit Dan's site to get even more information, and take a look at some of his titles on Amazon.
Visited 1 times, 1 visit(s) today