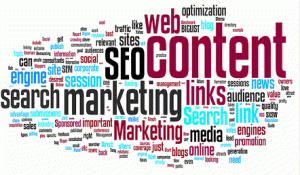 SEO is an important component in the strategies and tactics you use to improve the traffic coming to your website. Using one or all of these ideas will improve traffic exponentially. But, one thing to remember is that getting traffic is to your website and online marketing is a "long game" meaning this is something you're going to do long-term. Overnight success is rare, but with persistence and a plan, you will have success eventually.
Content marketing is both an on page and off page SEO tactic. Creating and promoting blog posts, social media posts, videos, infographics, and memes are all great ways to improve traffic to your website. Within content marketing there is also email marketing. Email is a form of content and is a fabulous way to promote anything you do including posting a new blog post because you have the permission of your audience to do so.
It's important to create a well thought out content marketing strategy before you even begin to think of any other type of marketing outside of the things mentioned regarding improving on and off page SEO.
Understanding your ideal customer's buying stages will do wonders for helping you create an abundance of content that get results. You'll need content for all aspects of your product funnel for at least two or three types of audience members that you have. Some people call these "buyer personas".
The content you create will come in a few general categories:
Awareness – You'll want to educate your audience and create buzz so that they know you exist. You might create a book, cheat sheets, checklists, "how to" content, or host a webinar. These things are all designed to educate the audience about your existence.
Evaluation /Consideration – Once your audience knows you exist they're going to compare you to others. This is why you should go out of your way to learn as much as you can about both your audience and your competition. Providing case studies, an FAQ, demo videos, webinars, and even a free sample is a great way to allow your customer to evaluate your offerings.
Decision / Purchase – To get your audience member to purchase your product, you may need to provide a live demo, consultations; price estimates (services) or even a coupon or free trial. To the entire product so that they can finally choose your product or service over someone else's, the trick is to reduce their perceived risk level.
As you consider the types of content you will need to create for each of your potential client personas, plus for all stages of the buying cycle, it'll be hard not to think of tons of content ideas. The last two areas of the buying cycle should also be included such as finding your audience and turning them into advocates.
Even before the Internet, a way to prove authority and get some credibility behind you was getting published. Today, it's far easier to get published than ever before. You can publish yourself right on Kindle easily. You can easily use Create Space to publish a print version of your book too.
There are a lot of opinions about this. Old school people are horrified at the ease of entry into the publishing world. But smart markers know the advantages of getting published with or without a publisher. Plus you can even earn extra money in the process and you don't need anything special at all to publish on Kindle. Just use MS Word and follow the detailed instructions for formatting, and you're good to go.
Include Hyperlinks – In your Kindle Book, include hyperlinks to products you recommend and your page. These links will direct people to your page. Note: Be sure your website is responsive so they can actually view the info. Tip: Include the links as hyperlinks and as easy to remember links too so, they can get to them on their computer if they want.
Provide Extras – Kindle books are so great because you can put links, which allows you to provide extras that print books can't. For example, you can link to a video, or link to a special download page with worksheets, cheat sheets and other important information for your audience to use. Tip: This is a great opportunity to collect their email address to add them to your email list.
Getting published does not take a publisher, or anything but the ability to write about 5,000 to 10,000 words that make sense and help your audience in some way. What's more, if you wanted you could outsource that task to someone else.
There are numerous discussions going on in forums, blogs, and on social media networks like LinkedIn. Join communities and start commenting. Make sure your comments are well thought out and that your profile is fully completed and accurate. As mentioned before, you can set up a Google Alert to notify you of any discussions anyplace that you might want to comment on.
Guest blogging, interviewing, speaking, and other actions can help you get traffic to your website because people like doing business with people they feel are trustworthy. Being invited to guest blog, do an interview, or speak can be a sign that you know what you're talking about and further establish you as an expert. A good place to start is to become a case study for someone else. Many people who sell products ask for referrals and case studies. If you've been successful, shout it out to the world.
Writing reviews for products you've purchased is a great way to recommend products to your audience but also a good way to get the attention of movers and shakers within your niche. The more you can associate your name with their name, even in something like a product review you look more like an expert and people will want to know more and click through to your website. You can also post reviews on your own website as another form of content.
Hosting and participating in webinars is an excellent way to build your email list, and get people visiting your website if you set up things right. Remember that you want to send traffic to your site so each time you mention the webinar, like directly to your site first where they can find more info about singing up, not the webinar site.
Contests & Freebie Giveaways
Hosting and participating in contests is a great way to get links to your site and up the buzz about your products and services. You can design contests in a lot of ways, but the important thing is to make the prize something only your audience would want, not something the public would want.
There are a lot of types of paid traffic that you can use to improve your business, but the two that you'll want to look into are pay per click, and banner ads. You can start a highly targeted Facebook PPC campaign and run banner ads with the keywords you select with Google AdWords. Don't attempt this until you've done everything else.
A JV is where two or more people who market to the same audience non-competing products and services join forces on a small project. For example, let's say you have a new book you want to promote via webinar. You can invite other people to join in who have products that would appeal to that audience to make the webinar more beneficial to your audience.
Visited 1 times, 1 visit(s) today