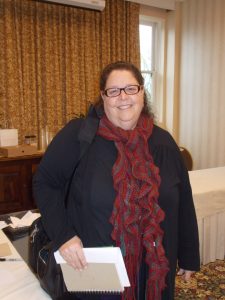 Carol Marshall, PR expert and public relations guru to the stars, is someone I met while I was volunteering in the Press Room at the Santa Barbara International Film Festival in January. We first met when I was getting coffee at the Starbucks next door to Hotel Santa Barbara where the Press Room is located during the film festival. She saw my bright green t-shirt and badge and came over to thank me for volunteering. I was so moved by this gesture and we talked for a few minutes while our drinks were being prepared. It was then I found out that I would be volunteering with Carol, and it wasn't until later in the day that I discovered that this humble woman was the person responsible for the great publicity and public relations of the festival.
Carol explained what the function of a Press Room is, how publicity plays a huge part in the marketing of people, events, and films, and why the media are so important. She's been the Public Relations liaison (publicist) for the Santa Barbara Festival for the past twenty years. She explained the process of choosing the films and the actor's that will be featured at the Festival.
She started in entertainment public relations in 1979, working with Frank Sinatra, Barbra Streisand, and the Grammy Award's during that initial period. She worked with PMK for twenty-four years before starting her own company in 2005.
I asked Carol to talk a little about some of her clients, and she mentioned actor Jimmy Smits as an example. The reason someone hires a publicist is to get their name in front of those who can best help them to achieve their personal and professional goals. Publicity brings awareness, which leads to future jobs and other opportunities. She has now worked with Jimmy for more than twenty-five years.
Carol agreed that what we do on the Internet is similar to show business, and that getting visibility is part of the process. Even though this is not her area of expertise, she acknowledge its importance in the world today. We discussed what she refers to as the 'social media mentality' and how it is similar to reality shows in that people want to be noticed every moment of the day.
Is there any such thing as 'bad' publicity? Carol says it depends on the circumstances, and you want to be known for things that present you in a positive light to others. It's all what happens in the aftermath of what you've become known for in the first place. Carol's role as a publicist is to guide her clients by using a strategy that will work well for them. Less can be more when it comes to being in the public eye. Don't talk about yourself unless you have something to say, with quality over quantity being key.
Will I be hiring a publicist any time soon? Yes, and stay tuned for more details.
Visited 1 times, 1 visit(s) today