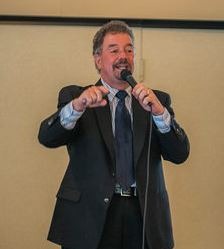 Brian Basilico is an author, speaker, and social media expert. He lives in Aurora, Illinois, a town about thirty miles west of Chicago. His bestselling book, It's Not About You, It's About Bacon, describes and explains basic marketing principles and defines the 'know, like, and trust' factor into the equation. It also has a companion Workbook that is an innovative way to build credibility and visibility. The idea for the bacon theme came from a social media experiment he was involved in while speaking at a conference. You'll love this story and how it connects social media with relationship marketing in a fun and memorable way. We discuss the power of storytelling and how stories are interwoven into every aspect of life and business.
He is a 'self-professed geek' and used to build elaborate toys for himself as a child. He worked as a video producer for AT & T, and has been involved in marketing since he was a teenager, and opened his current company about fifteen years ago. He now coaches people on how to use social media to build an online presence, as well as teaching a variety of other strategies to help people become successful. Brian shares some specific examples of how he helps people in this way, and we also discuss how he works with corporations to help them leverage the power of LinkedIn in their marketing. We agreed that working both with startups and small businesses, as well as within the corporate world allows us to stretch and expand our knowledge in a way that is beneficial to everyone involved.
I knew of Brian online for more than a year before we met in person at the NAMS event in Atlanta (we'd love to connect with you there next time) where we were both speaking on our topics of expertise. This is a perfect example of how building relationships is crucial to success in life and in business. This all led to me being a guest on his show and he finally being a guest on mine.
We are in alignment when it comes to acknowledging the value of having our own information products for sale, and Brian discusses some of what he has to offer in the areas of blogging and social media marketing. We then discuss the newer live stream applications and the power of video in our businesses. You will love this interview and I encourage you to share this with anyone who would benefit from these principles and strategies as they build an online business.
Subscribe in iTunes To Hear All of my Podcast Episodes
Visited 1 times, 1 visit(s) today