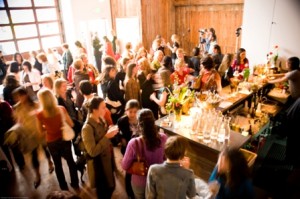 I have been attending live marketing events for years, and have now been to lots of them. When I say 'lots' I mean that I have been an attendee or a speaker at more than fifty live marketing conferences and seminars since 2008. During this time I have learned so much, including how to behave and carry yourself when you are at a business conference.
You must remember, first and foremost, that you are there to build your business. Even though there will be many opportunities to socialize over the course of the event, your goals must remain to be the focus of what you are there for and wish to achieve. It's not your cousin's wedding or your neighbor's barbeque; these events are meant to help you further your knowledge and to reach new heights in your overall business plan in a much shorter time frame than you could do on your own.
With that said, here are three things that I observe regularly when I am at conferences and seminars across the United States:
Drinking Too Much – This is the number one way to ruin your reputation in a business setting. Even if you would normally have a drink when out with friends, keep it to a minimum while you're at a conference. I have business associates who like to drink wine in the evenings, so I always graciously accept one glass and then sip it slowly all evening. This makes me 'one of the group' without having to compromise my beliefs or defend actions later on.
Sloppy Personal Appearance – We all judge a book by its cover, even if we think we keep an open mind in this area. T-shirts with witty phrases and controversial pictures give people a negative opinion of you right away. I visit several cities regularly, such as Austin, Texas and Atlanta, Georgia, and have shirts I purchase at the airport or the hotel gift shop with the name of the city on them. I typically wear these on the night I arrive to show my support for natives of that city. Also, clothing that gives you the 'disheveled' look is simply not acceptable. If your pants are made of a material that looks like you've slept in them after a few hours, leave them at home and choose another pair for the conference!
Sharing Sensitive Personal Values And Beliefs  – A business conference is definitely not the place to share personal stories in regards to race, religion, politics, sexual orientation, or previous employment, even if there is a point to your story. I have seen people embarrass themselves by sharing personal information with a group that would have been best left for a private conversation. If you even suspect that it might be 'too much information', keep it to yourself unless you are only sharing it with one other person who may need to have access to these intimate details. Also, be careful not to be overheard talking about others or about anything that could be potentially hurtful to another person. My voice tends to carry, so I try to save anything sensitive in nature for a time when I am not in a public area, and to steer clear of gossip altogether.
When I brought these three points up to one of my students his response was to cite examples of what others were doing. It doesn't matter what anyone else is doing. You must take full responsibility for your choices and actions. Remember when your mother said something like, "If everyone else jumped off the building, would you line up to be next?" She was right.
Instead, use these events as an opportunity to present yourself in a professional and positive way. Choose clothing that fits you well, is made of materials that breathe, and that stays looking good even after sitting for long periods of time. Drink in extreme moderation, or not at all. Only share stories that will build your reputation and show you off in a positive light later on when repeated to others. Yes, everything you drink, wear, or say is likely to be repeated to others, so make sure it will help you to achieve your goals instead of stopping you in your tracks. Make the most of attending live marketing events and it will be reflected in your credibility and your bottom line.
Visited 1 times, 1 visit(s) today