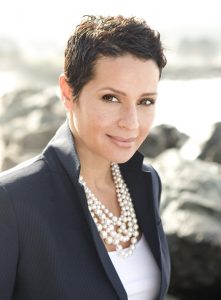 Alicia Dunams has coached thousands of people to write, publish, and market their books through her acclaimed Bestseller in a Weekend program. In this program she teaches entrepreneurs how to become an industry expert, increase their credibility, and create new opportunities for themselves through the power of a bestselling book. And even though she lives in southern California, our paths had never crossed. Always on the lookout for additional entrepreneurs to introduce to my community, I was thrilled when Alicia agreed to join me for this podcast interview. I know you will resonate with her message and be inspired to play bigger in your own business.
Formerly an international fashion model, Alicia traveled the world before settling down and beginning her entrepreneurial journey. It all began in the summer of 2007 after she published her book, Goal Digger: Lessons Learned From the Rich Men I Dated.
During this interview Alicia shares exactly how and why she started down this path and how authorship and information products are an important part of this journey.
I encourage you to listen to this podcast, through the link here or by subscribing to my podcast series on iTunes, and then download Alicia's free eBook on How to Get Your Book Done Fast so that you may connect further with her in the near future.
Subscribe To All Interviews In My Podcast Series